Welcome back to another edition of Jeopardy!, the quiz that tests your knowledge of sports, pop culture and assorted trivia. Please remember to phrase your responses in the form of a question.
(Correct questions at the end of the quiz.)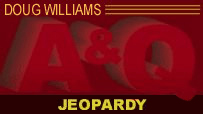 1. Answer: Men tried out for the cheerleading squads of these two NFL teams this past week, but failed to land spots.
2. Answer: This NFL quarterback, a former No. 1 overall pick, was seen snuggling with supermodel Karlie Kloss at the Coachella music festival.
3. Answer: This tennis star had her hair cut short, then unveiled photos of herself with her new 'do on her Facebook page this week, writing, "So what do you guys think? I kind of love it!"
4. Answer: This NBA player, a recent call-up from the D-League, says he's decided to get rid of his collection of pythons and alligators because of safety concerns for his 3-year-old daughter.
5. Answer: New Cardinals outfielder Carlos Beltran asked that the team play this song as his walk-up music this season, the same song used by Mark McGwire in 1998.
Question 1: Who are the Denver Broncos and Houston Texans?
Question 2: Who is Sam Bradford?
Question 3: Who is Maria Sharapova?
Question 4: Who is the Warriors' Mikki Moore?
Question 5: What is Guns N' Roses' "Welcome to the Jungle"?