Deacon from Los Angeles writes, "I've been following your writing since 2010. Now Page 2 is gone. Are you making a comeback on ESPN Playbook?"
Don't call it a comeback, I've been here for years ...
The column's new home is here in ESPN Playbook's Fandom blog.
Now let's get to the rest of this week's mail.
I want to preface this by saying I'm a huge Kobe Bryant fan. But the Lakers have done well without him. Is it time to start thinking about amnestying Kobe at the end of this season?

--Willis, Los Angeles
Tunnel vision (aka Kobe vision) can ruin offensive production. He isn't a team player all the time. It's like he can't even see his teammates at times. Agree?

--Franklin, San Diego
• • •
Kobe always, always, always needs the ball. Right?

--Sharlene, Los Angeles
Oh yeah. He even needs the ball in group photos.

• • •
Kobe famously said, "Ship his [expletive] out!" regarding Andrew Bynum in 2007. In 2012, most people would rather keep Bynum and ship Kobe out. Don't you think?

--Connie, Los Angeles
Of course, and Bynum should parody Kobe's infamous parking lot video if amnesty talks enter the rumor mill. He should bring in Smush Parker for a remixed version.
• • •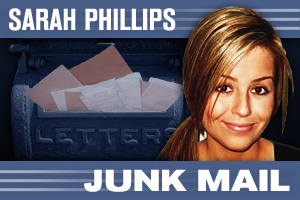 If the Lakers dump Kobe, they will free up $27 million next season and $30 million in 2014. Los Angeles could use that cap space to shop for younger starts like Dwight Howard, Chris Paul, or Deron Williams. Great plan, yeah?

--Sam, Norman, Okla.
That sounds wise. Is this Sam ... Presti?
• • •
So, all things considered, the Lakers should amnesty Kobe at the end of the season, right?

--Derek, Sacramento, Calif.
Of course not. The Lakers need to rack up frequent flyer miles and send Kobe to Germany as often as possible. Besides, you simply do not amnesty a man who has experienced success at success at success.
• • •
Maybe it's because I'm married, but I just don't see the fascination over the looks of female athletes. These women aren't attractive in the "real world." I think the public overemphasizes their looks based on their profession. Jennie Finch is what I call softball player-hot, Maria Sharapova is tennis player-hot, Danica Patrick is NASCAR driver-hot, Alex Morgan is soccer player-hot, so on and so forth. Do you think I've categorized them correctly?

--Roger, New York
No. I think they fall into a larger category: Hotter than your wife-hot.
• • •
Big Minnesota Timberwolves fan here. I've suffered through Stephon Marbury transitioning into "Starbury," the loss of Kevin Garnett and years of futility. It seemed like we had a good thing going on this season until all of those injuries. Kevin Love is an absolute star, but I'm beginning to think his career may be all for not if he remains with the Timberwolves. We're cursed! Something always goes wrong. What do you think about the prospects of Love being in Minnesota for his entire career?

--Tom, Duluth, Minn.
I think Rihanna is right. We found Love in a hopeless place.
• • •
The 2012 BCS national champion Alabama Crimson Tide visited the White House on Thursday. Do you think President Barack Obama would have rather met with my LSU Tigers?

--Flynn, Baton Rouge, La.
Well, if you put a "G" at the beginning of Barack's last name, you get "GOBAMA!"
• • •
I met this guy on Twitter through some friends of mine. We chatted back and forth for a couple weeks. He was attractive in his Twitter profile photo -- Nike T-shirt, Yankees baseball hat, cargo shorts and Jordan shoes. So we decided to meet up for lunch. I saw him from a distance on our first date, and he was wearing the same clothes as he was in his Twitter photo. No big deal. I figured he did that so I would recognize him. We hit it off, so we decided to get drinks a couple nights later. We met at a club, I saw him at the bar and ... HE WAS WEARING THE EXACT SAME OUTFIT! Is this normal?!
--Kim, San Antonio
Of course it's normal ... in a cartoon.
• • •
I'm sure you've heard that some of [the University of] Oregon's football players admitted to smoking weed in an ESPN Magazine story. I'm not shocked by marijuana use among our youth, so I don't know what the big deal is? Anyway, would you have changed anything about the story?

--Chris, Eugene, Ore.
Instead of posting the story on Wednesday, it would have been fitting to release the story today, on 4/20.
• • •
The Colts told Andrew Luck he will be No. 1 pick in the NFL draft next week. RGIII will obviously be No. 2. What are your immediate thoughts on those selections?

--Ari, Detroit
I had this pegged in my mock draft -- all 9,319 versions.
• • •
My Celtics are getting old, but we're really clicking right now. Kevin Garnett said it best, "Anything is possible!!!!" Is "Ubuntu" back? Or do you have a better motto for this season?

--Ben, Boston
New motto: "Anything was possible!!!!" The Celtics are over the hill.
• • •
I just joined Twitter last week, and I can't believe the amount of awful stuff people say on there. Kim Kardashian's feed is absolutely useless to follow, as is Justin Bieber's. They say nothing of any value. What's the dumbest celebrity tweet you've read since you joined Twitter?

--Jen, Boulder, Colo.
It came from Paris Hilton. She tweeted about a vacation, and she was asked by fans for details of her trip to London. It seems like she got confused by some of the questions she received, and said, "No, no. I didn't go to England. I went to London."
• • •
I've read some of the replies you receive on Twitter and people tweet you so much ridiculous stuff. What's the dumbest thing someone has sent you on Twitter?

--Fred, Chicago
It's a toss-up:
When Apple CEO Steve Jobs died, I posted a message on my Twitter feed about his passing. One of my followers responded, "Is Steve Jobs your dad?" Best part: Twitter dated his message: "Sent 34 minutes ago via iPhone."
Another time, I was making a sarcastic comment about something unimportant, and someone tweeted back, "[You're] always hating on people. You are SO [stupid]!!! You must have low selves of steam."
• • •
Submit questions to Sarah Phillips at JunkMailESPN@gmail.com.
You can follow Sarah Phillips on Twitter @SarahPhilli.