After Bryce Harper's first big league at-bat on Saturday, Topps already had his first rookie card ready.
And it showed it to the world before his second time up.
This week, the company unveiled its plans for Harper cards in all of its remaining products this year (one is pictured below) with the first one coming on June 6 in the second series of its flagship baseball set, 2012 Topps.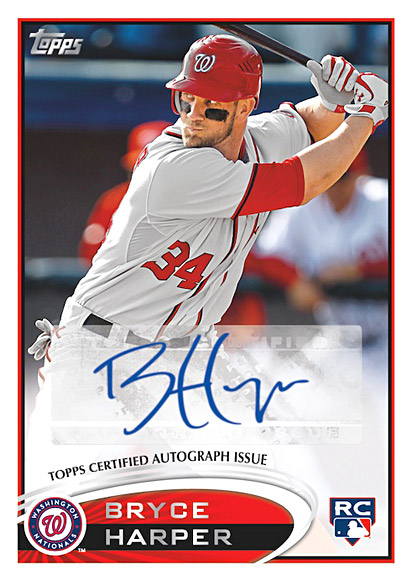 "People at Topps are excited," vice president Mark Sapir said. "We are most excited for collectors. He is a special talent, and we will do our best to celebrate his MLB debut and rookie cards."
In all, Topps will produce nearly 20 different brands this year as the exclusive licensee of cards for MLB. Before Harper had played, he could appear in only one of five Bowman brands that allow minor leaguers to get some big league baseball card playing time alongside the true boys of summer.
Now, though, Harper can be in any of the company's products -- and the 19-year-old will have autographed cards found (in limited numbers) in every single product that Topps makes this year.
"We want collectors to have a chance to pull his card as quickly as frequently as possible," Sapir said. "In total, I think our plan is awesome and will truly unlock Harper to the collectors."
Although Harper is now official as a big leaguer, he does appear on 248 different previous cards -- releases from his time with USA Baseball, as an Aflac All-American and as a prospect in the minor leagues. You can see them all -- and find out what they are worth -- on Beckett.com.
Let's just say that some of them are expensive, as demand for the prospect is something not previously seen on cardboard. The values of his cards before his debut? More than $28,600 -- not including rarities such as his one-of-a-kind SuperFractor that has a five-figure asking price on eBay.
While Harper's official rookie cards will be coming in brands of all types and prices, Topps is also readying a high-end product that will cost north of $400 for a single pack -- each one jam-packed with autographs and pieces of game-used jerseys placed into nearly every card.
Harper, of course, will be in there, too.
"We for sure will do some really sweet stuff with him on our high-end releases like Triple Threads and Five Star," Sapir said.
Chris Olds is the editor of Beckett Baseball magazine. Check out Beckett.com for the latest news on sports cards and memorabilia. You can also follow him on Twitter.