There are 167 retired numbers in baseball. Most from players. Some from the same player. Several from managers. A couple from owners. And there's one that spans baseball, honoring one of the most important figures of all time.
So who are these folks? Which team has the most? And which three franchises have yet to post a number up on a wall for no other player to use in the future?
To answer these questions and more, Patrick Donnelly and the folks at SportsData LLC created this infographic -- a handy visual tool to explore some facts about Major League Baseball's immortalized digits.
To zoom in, press ctrl+ on your keyboard.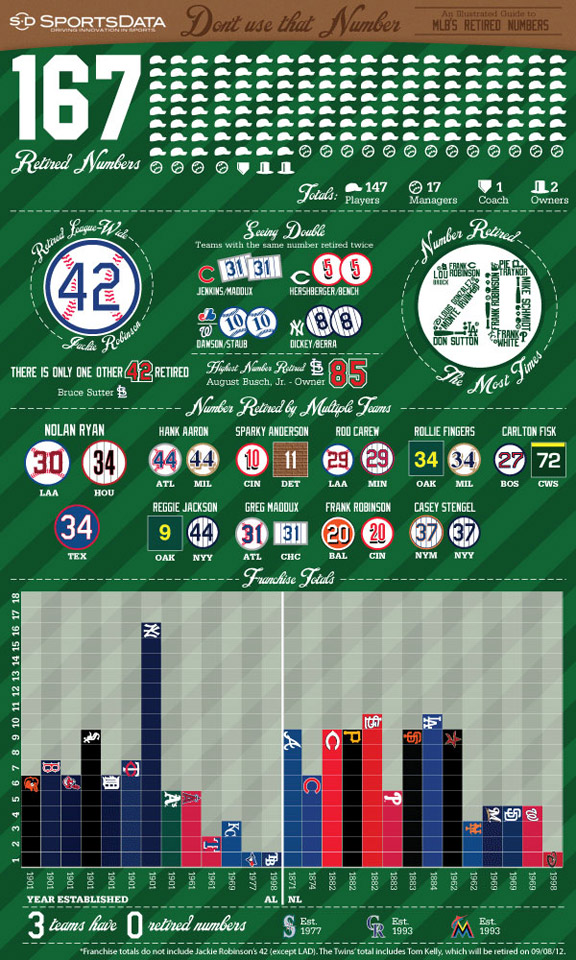 More facts from Donnelly and SportsData:
• The Miami Marlins currently have no retired numbers -- but No. 5 used to be retired to honor Carl Barger, the team's first president. Barger died before the Marlins played their first game, so the franchise retired the number of his favorite ballplayer as a kid, Joe DiMaggio. However, when the team moved into its new stadium this year, No. 5 went back into circulation and was claimed by outfielder Logan Morrison. Barger is now commemorated with a plaque at the stadium.
• The White Sox temporarily unretired Luis Aparicio's No. 11 when veteran shortstop Omar Vizquel joined the team in 2010 and asked to wear it to honor Aparicio, one of his heroes as a youth. Aparicio approved of the move and Vizquel wore No. 11 for his two seasons in Chicago.
• The Reds temporarily retired the No. 5 jersey of catcher Willard Hershberger, who in 1940 became the first and still only player to commit suicide during a season. However, two years later they unretired the number, and in 1967 it was issued to Johnny Bench, who went on to a Hall of Fame career and earned No. 5 a second, permanent retirement.
• The No. 20 has been retired more than any other -- by nine teams for eight different players (Frank Robinson was honored by the Reds and Orioles). No. 4 and No. 5 have been retired by eight teams apiece.
• The Angels retired No. 26 to recognize former owner Gene Autry as the team's "26th man," while the Cardinals retired No. 85 for team executive August Busch, who was 85 years old when the number was retired in 1984.
• The Indians officially "retired" No. 455 to commemorate the record number of consecutive sell-outs at Jacobs Field, but it's unlikely they would put that number on a player's jersey, so it's not included.
Check out more infographics on SportsData LLC's website.