Boston artist Ian Kennelly wasn't much of a baseball fan growing up in Southern California. "I was the fat kid," he said.
So his love for baseball blossomed when he was a freshman at the Massachusetts College of Art in 1990, and after he attended his first game at Fenway Park.
"It was the magic of sitting in that park that got me hooked on baseball," he said. "It wasn't the one game I went to at Dodger Stadium as a kid or all those times I drove by the Angels' stadium, but it was the magic of sitting at Fenway Park that got to me."
Kennelly has worked some of his own magic with his painting of Fenway Park -- called "100 Years in the Making" (pictured below) -- that details the growth and changes of the ball park by overlaying years on certain features of the venerable ballyard. Among the years noted on Kennelly's painting: 2005 (when the current draining system was installed); 1940 (when the right-field bullpens were constructed); and -- of course -- 1912.
His painting is one of the pieces featured in "Play Ball" at Boston's Atlantic Wharf Gallery, which holds its official opening reception Thursday. The exhibit features 11 artists from Boston's Fort Point area and runs through October 26. It includes baseball-themed paintings, photographs, sculpture and prints.
This particular piece of art took Kennelly a month to create, including his homework. "I don't think I ever did so much research on a painting," he said.
Kennelly's work has appeared at other baseball shows. He has six paintings in this exhibit. His passion for baseball and art -- along with Fenway Park's 100th anniversary -- helped ignite the idea for this exhibition, which also includes work by artist Laura Davidson (below).
The exhibition was simply a meeting of "people that love the game of baseball and make art -- it's a great combination," Davidson said.
She grew up in Michigan as a Tigers fan and cheered her team on to victory in the 1968 World Series as a child. She moved to Boston in 1983 and became a Red Sox fan, but managed to keep her dual allegiances alive long enough to celebrate the Tigers' 1984 title. Now, she's a 100 percent committed member of Red Sox Nation and attends about "five or six" games a year.
Davidson has 24 pieces of hand-drawn full-color baseball ephemera -- including life-size ticket stubs, baseball cards and other mementos from her visits to Fenway Park. One of the pieces is a rendition of a 1959 Fleer card from its Ted Williams set depicting "Ted's Hitting Fundamentals."
"My daughter found that card in a library book -- it was amazing," Davidson said.
Her work also includes several ticket stubs -- including one from Fenway Park's 100th anniversary game on April 12, 2012 against the Yankees -- and a drawing of a vial of dirt from the no-hitter thrown by Clay Buchholz in September 2007.
"We sat by third base," she said, "and after the game, a kid nearby pulled up some dirt from the field and filled up a cup full of it for me."
She created vials of dirt and gave them to the people who attended the game with her.
"It was a special night," she said.
Other pieces featured in the exhibition: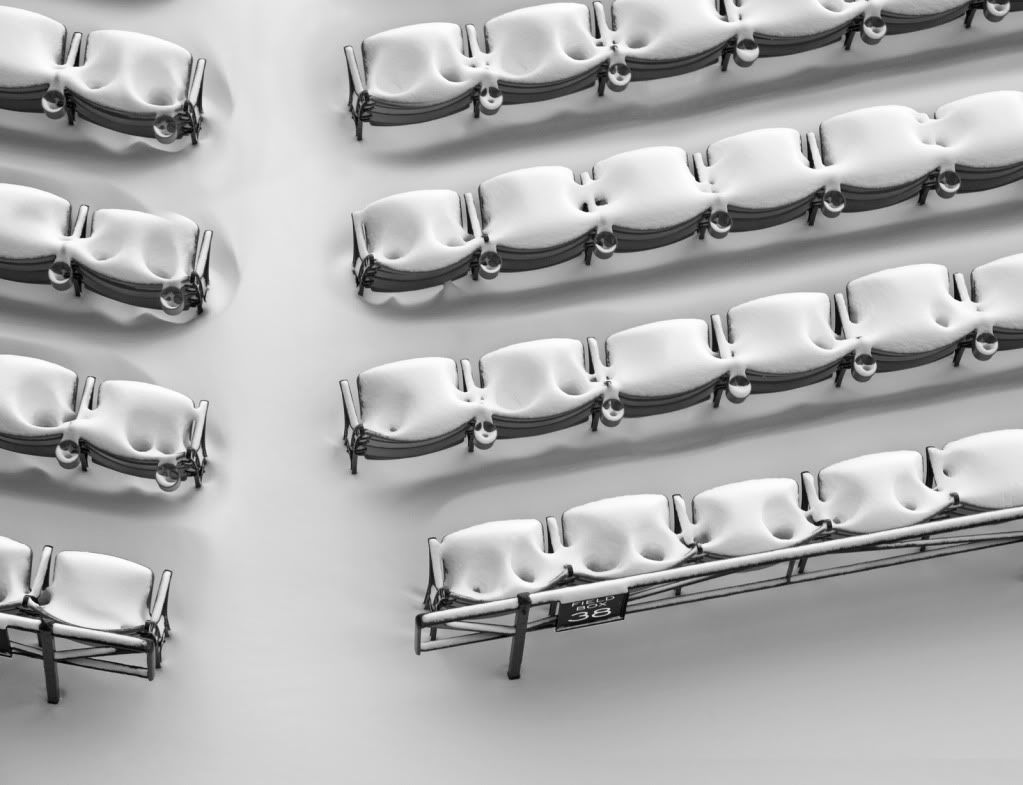 "Section 38 in Winter" by Leslie A. Feagley

Joanne Kaliontzis. Images created from 100-year-old baseball cards that came with Piedmont and Sweet Caporal cigarettes, featuring Bill Carrigan, Heinie Wagner, Jake Stahl and Tris Speaker. Source art: Library of Congress.
"Do You Remember that Swing?" by Karen McFeaters
"Play Ball" runs at Atlantic Wharf Gallery, 290 Congress Street in Boston daily from 7 a.m. to 10 p.m. For more information, visit www.fortpointarts.org.