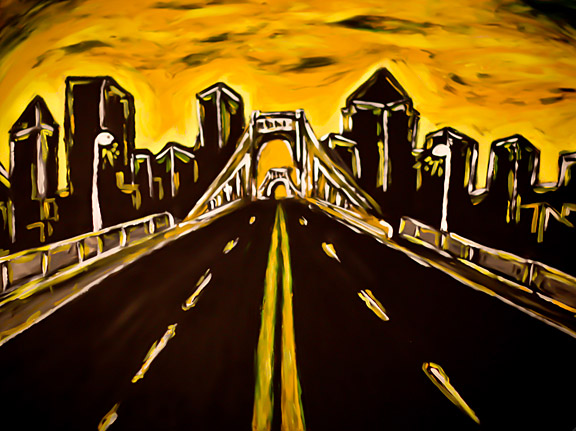 Titled "Showered in Black and Gold"
When Baron Batch got to Pittsburgh in late February, he found an abundance of two things.
One: Free time, because he was one of the few Steelers in town, a second-year running back rehabbing his knee after tearing his ACL the previous preseason.
Two: Blank space on his apartment's walls.
His answer?
"Well," Batch remembers saying to himself, "I'll start painting. Create my own art."
So he did. Despite being out of the art game since his much younger years, Batch began filling that empty time and space with vibrant, almost impressionistic paintings -- each offering a distinct style that is pretty much only his.
"It started with one little painting," he said, "and now my apartment's full. It's packed."
Not that this should be much of a surprise, if you know Batch. The former seventh-round pick is not a typical pro athlete; he's also an avid photographer, and while in college at Texas Tech, he offered his services as a guest blogger/columnist to two local papers, chronicling his senior season and his push to make the pros (the papers still run his posts, and much of his art is inspired/tied to his writing).
We caught up with Batch by phone this weekend to talk art and other things that move him.
Inspired by the blog post "A Storm Is Coming," written after Batch's injury
How long have you been painting? Seems like a while ...
"I haven't been doing it as long as you might think. When I was growing up, I was always kind of artistic. ... I would draw all the time. I was always drawing on the back of homework, on the back of everything. I was just sketching stuff and drawing.
"[But I] just stopped doing it, kind of quit drawing as I got older, and picked it back up recently. And I don't think it'll be something I'll stop again. I enjoy it now."
Did you ever take any classes, though? Get any formal training?
"I never took any classes. I think that's kind of why my style might be a little bit unique. I was never taught in a particular style.
"The techniques that I use are just the things that come straight out of my mind. I see what I imagine in my mind, and try to create it best with what I know how to do. ... I feel like that's why you can tell that it's completely mine."
Tell me about that style -- like you said, it's pretty distinct.
"It's funny. I'm not sure [where it came from]. I kind of just went at it. And I always liked bold colors, and I've never been a big fan of super-clean art. [Mine is] kind of messy-looking, you know? There's a few I've done that have just been completely finger paintings.
"For me it's really a way of just leaving football stuff completely somewhere else. So as long as I can just crank up the music and just go at it, I like doing that. And I think that's why the style looks like it is. A lot of it's impromptu. I don't really plan out a lot of the stuff that I do. It's kind of just the way I'm feeling at the moment.
"Once I start a painting I try to finish it at the same time I start. I don't think I've ever spent more than a day on one piece."
Inspired by Batch's blog post, "The Now"
So what do you enjoy about it now? Why did you get so into it so quickly?
"It's just nice to have something completely different [from football]. When you're a professional athlete, it takes so much energy focusing on your work and what you do, and there's not many things that you can just step back and refocus everything onto another thing. And for me painting's like that.
"As far as the [finished] art goes, I feel like it's just creating it, and the process creating it ... than the actual result, a lot of the time. ... I'm not really where I'm getting the satisfaction out of having it. It's making it."
[Writer's note: Batch says he gives away the pieces that don't end up on his wall, including to Pittsburgh's Cancer Caring Center, potentially to defensive line coach/art collector John Mitchell ("When he told me that, I was flattered," Batch said) and soon, perhaps October, at a one-man charity art show at Pittsburgh's Cystic Fibrosis Center.]
Titled "Canon"
Tell me about photography. You're pretty into that as well ...
"Even when I was a little kid, I thought it would be awesome. I was always looking at pictures and looking at National Geographic magazines. And when I was in college, I finally saved up and bought a camera and decided [I was] just going to actually start doing the things that I was passionate about doing. Instead of just saying, 'That would be something that I'd like to do,' [I would] just do it.
"[My camera] was one of the best purchases I've ever made. I love it. ... I take it just about everywhere.
"I think it's so cool to be able to tell a story through an image."
Photo from Heinz Field in Pittsburgh
Photo from Batch's recent trip to Haiti.
And the blog -- how did that start?
"When I was in college, I had a buddy, and he had a blog, and to comment on his blog you had to have a blog, and me, I was just wanting to be a jerk and troll his stuff and leave him little comments. So I [did]. And eventually he was like: 'You should quit trolling me all the time and actually post some stuff. … Maybe someone will like to read what you have to say.'
"So I did it every now and then, and then picked it up and posted more and more, then all of a sudden I had a little following, which was kind of weird. I had a little following of Texas Tech fans."
And then doing it for the papers -- why did you pitch that?
"I thought it would be cool and really challenge me as a writer to be able to do that each week. And I thought it would be cool, just because I didn't know exactly what was going to happen [after school]. Everybody wants to play in the NFL after college, but I thought that would be a great doorway to kind of put myself out there and show what I wanted to do [in writing]. Just have an actual resume of actual work."
And it's still going.
"I thought after the season was over that would stop and that would kind of die out, but it was such a hit throughout the season ... they wanted me to keep doing it.
"It's pretty cool to be able to do that -- share what my journey has been like. ... The coolest thing about it is to be able to get the feedback from people who are like: 'Man, you have no idea what that blog post, that story did to help me.'
"It's definitely a big part of me now."
Inspired by the blog post "860 Miles to Forgiveness,"
written about the day Batch was drafted.
All images and more can be found on Baron Batch's website.
Check back on Playbook soon for a report on another NFLer-slash-artist: The San Francisco 49ers' Vernon Davis.