This spring, Justin Tigner received a request: Paint something for former Oregon coach Mike Bellotti's annual Muscular Dystrophy Association fundraiser.
Now, this wasn't an unusual task for Tigner; the 39-year-old artist has spent more than a decade painting for various charities in Oregon and southwest Washington, including nine with Bellotti's. But it was a new challenge, since Tigner wanted to accurately portray Oregon's chrome Rose Bowl 2012 helmets.
Chrome isn't easy.
"My poor wife had to listen to me complain for a week about how hard it was to paint them," Tigner told Playbook recently. "The two helmets took as long to paint as everything else on the canvas. When I finally got done and saw the way it turned out [see above], all I wanted to paint was the chrome helmets. I was really surprised at the way they turned out."
He shouldn't be. Tigner has been doing the sports-art thing for a while -- and doing it well, using lots of airbrush but also acrylic, pencil and other tools to render nearly 70 paintings that are available to see on his website, many of which have helped charities and/or landed on Oregon media guides and game programs.
We caught up with the professional artist/graphic designer (and also freshman basketball coach at Fort Vancouver High School in Vancouver, Wash.) via email to discuss art, sports and how he got involved with charity, from the MDA to those of former Portland Trail Blazer and now noted philanthropist Brian Grant.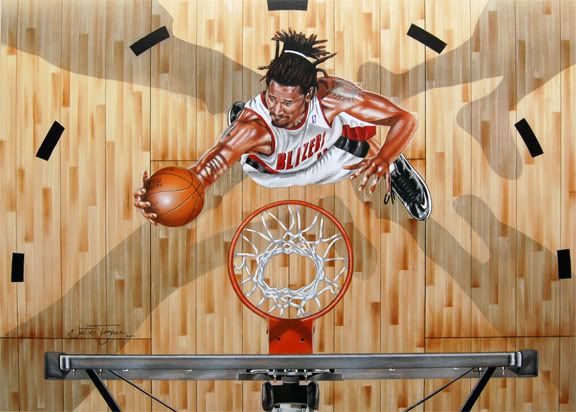 Brian Grant
How did you get into art? And then sports art on top of that?
I grew up in a home where art was always encouraged. My mom and sister are very talented artists (my dad claims that he is our inspiration). I also loved football from a very young age. I grew up one mile from Autzen Stadium [in Eugene, Ore.] and my dad would take me to University of Oregon football games in the early '80s when they only had one uniform and not much talent.
Art was my favorite subject in school, all the way back to elementary school. My mom saved all of my art ... and going through it a couple of years ago I found a drawing from the second grade. It was a color drawing of a Redskins-Cowboys game. I had the right number of players on both sides of the ball. All of the positions were in the correct spots on offense. The field had all of the proper yard markers. It was actually pretty cool to see the grasp I had on football back when I was that young. So, I would say that I always tied sports and art together.
A couple of years later, when I was in middle school, my dad would take me and a couple of my friends up to see the Seattle Mariners play the Toronto Blue Jays (back then I was a huge Blue Jays fan). I would draw pictures of my favorite Blue Jays players to get signed. They would always sign the drawing I did. There were even some players that would sign my stuff and nothing else.
I always say that I am not an artist that does sports, I am a sports fan that does art.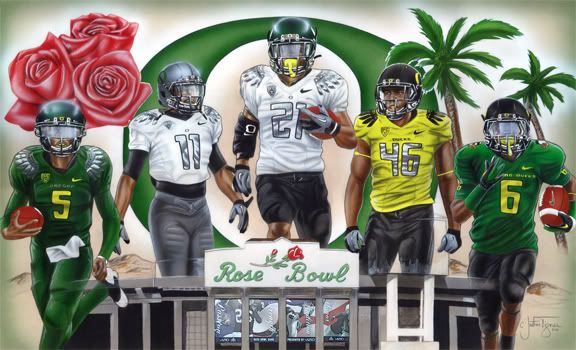 Rose Bowl 2012 official poster
How did you land on your style? Did you take a lot of classes in school?
My freshman year of college I took as many art courses as I could. Oil painting, watercolors, sculpture, drawing -- you name it, and I tried it.
A majority of professors didn't really enjoy my sports paintings or drawings. They wanted us to do landscapes or a still life, so I would do a watercolor painting of Frank Thomas and make sure there was grass and dirt in he background and that was my landscape.
I eventually took an airbrush class. The professor was great. He made us do four of his projects so we could learn the technique and after that he let us do our own thing and helped every student go the direction they wanted to go. I still use a trick he taught me for painting a football helmet. After I realized what I could pull off with the airbrush, I was hooked. So, since 1995, the airbrush has been a part of every painting I have done.
My style has constantly changed and evolved since then revolving around the airbrush. ... Basically when I get tired of a style I'll just stop doing it and try something new. In my studio a have all of my pencils, paints, airbrushes and paint brushes around me. I will look at the canvas and just grab whatever tool I feel like will work with the painting, and use it.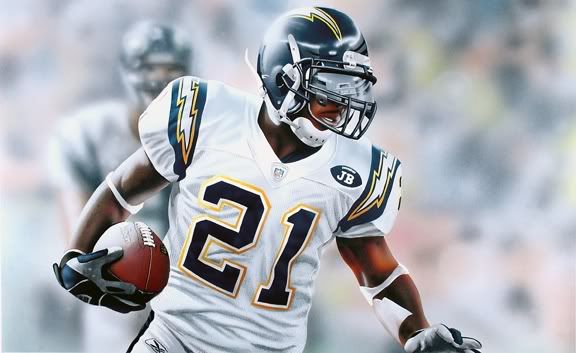 LaDainian Tomlinson (which Tigner cites as one of his favorites).
Tell me about the stuff you do for charity.
My career really started with Brian Grant when he played for the Portland Trail Blazers [1997-2000]. His foundation at the time raised money for the Ronald McDonald Houses of Portland and southwest Washington. Brian Grant's people asked if I could do a couple of paintings for two auctions, and I agreed. Both made pretty good money and it was pretty cool, but after the event a person with The Ronald McDonald Houses came up to me and ... said the money raised would house a family for six months while their child was undergoing treatment at the hospital. ... That absolutely floored me.
After that I always searched out sports-related charities that could use my work to raise money for their causes. The following year I started donating paintings to the Mike Bellotti event for the Muscular Dystrophy Association. This year was my ninth with the MDA and as long as Coach Bellotti has the event, I will donate art.
I've also donated to the University of Oregon's Duck Athletic Fund and the Oregon Clubs, [Trail Blazers forward] Nicolas Batum's foundation, [former Trail Blazers guard] Patty Mills' Assist Australia, the Cystic Fibrosis Foundation, and small fundraisers for local middle and high schools and various others throughout the years. As of three years ago I started donating to Grant's new foundation for Parkinson's research [Grant was diagnosed with Parkinson's in 2009].
I would say at least half of the paintings I do each year are donated to charity. I would say it was all because of the people at the Ronald McDonald Houses, [because] they explained it the way they did.
How did you get hooked up with Grant?
I found the Brian Grant people kind of by luck. When Grant played for the Trail Blazers he had a fan club. Every year he would throw a party and invite everyone from the fan club. In 1999, my aunt asked if I could do a painting for the event. A few days before the party my sister told my aunt that she couldn't go, so I took my sister's spot. When we got up to Grant in the autograph line, someone behind him asked if he could speak with me when we were done. It was Brian's PR director. He told me they had been looking for someone to do artwork for various uses and hadn't found anyone.
Before that it was hard to get my foot in the door with athletes, teams, or schools. After that, it was pretty easy. I owe Brian and his organization a lot for where I am today.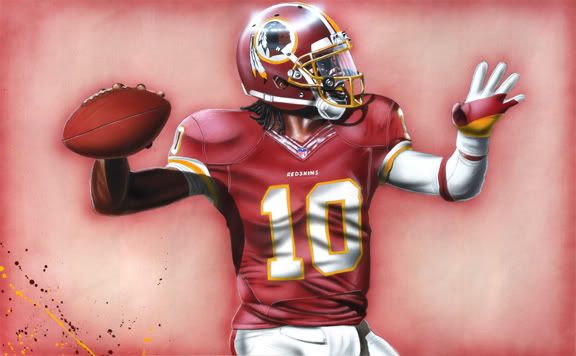 Robert Griffin III
So what's next for you as an artist?
I have a couple of projects I am working on. The one I am most excited about is an attempt to pull off something that is a little different for me. It's going to be the profile of an Oregon player running (most likely De'Anthony Thomas) in their new uniforms -- with the helmet, parts of the jersey, wrist bands and whatever else he is wearing, disintegrating off behind him. In my head it feels like it will turn out looking crazy and will be fun to paint ... but in real life my wife will probably have to hear some more complaining about how hard it is to paint Oregon's uniforms.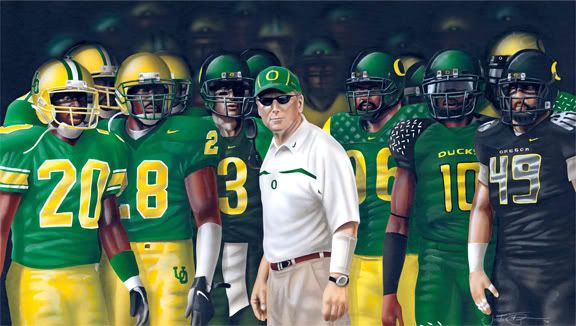 Mike Bellotti, with former Oregon players