Basketball and art. For Mike McGrath, there's just something about those two mixing.
"The game of basketball provides so many corollaries to art," McGrath wrote to Playbook recently. "There's the grace, finesse and fluidity so inherent in the game -- the way that no one player approaches the game exactly the same, and a constant evolution and shifting of styles over time."
Plus, McGrath pointed out: "Anatomically, I don't know if you could consistently find better subject models. The majority of these guys are just complete physical specimens running around in shorts and a tank top."
No wonder McGrath, with friend and fellow Cleveland native Nick Kastner, created the diverse basketball art blog Double Scribble, which frequently offers images of NBA athletes as created by the two bloggers and many other contributors (as seen in this artistic NBA mock draft from June). And moreover, no wonder they're collaborating with the Cleveland art gallery BUCKBUCK to put on the exhibition "Art of the Game: A Celebration of Art & Basketball," starting Oct. 20 and running into November.
Playbook caught up via email with the 25-year-old McGrath, who lives in Cleveland, to talk about the show, that blog with the 26-year-old Kastner (now based in Durham, N.C.), and hoops art in general: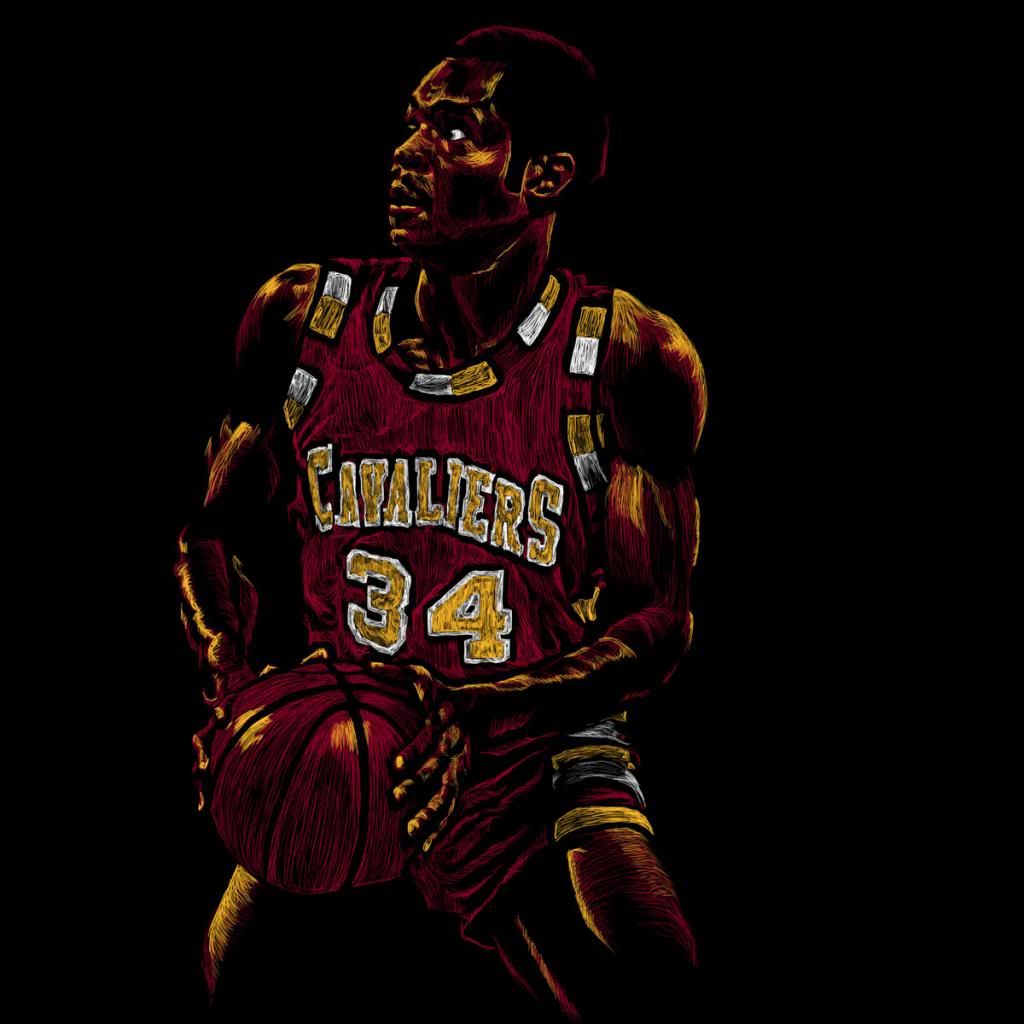 McGrath's Austin Carr
Kastner's LaMarcus Aldridge
What was the genesis of this gallery?
"The site itself has more or less always been a gallery, sharing other artists' work and getting their work out to our audience has always been one of my favorite aspects of the site. The next logical step was moving from the web into the real world. It was important for us to have our first ever show here in Cleveland, having both been born and raised in the area. So we met with the guys from BUCKBUCK Studio through a mutual friend, they loved the idea and it just came together from there."
Moving back, how did Double Scribble itself get started?
"It was actually Nick that got the ball rolling there. Here's his words:
'It's funny when I trace back the origins of the site. It really all began when I was living in Brooklyn and my craigslist roommate and I made [some] NBA graphic timelines.
'I went to Austin, Texas, for some interviews shortly thereafter. One was with Armin Vit of the design blog UnderConsideration. He saw the timelines and said I should make a blog where I post basketball-related design work.
'I had to leave New York because my internship ended and I ran out of money. I moved in with my parents and while I was job searching I decided to start the blog NBA Sketches. The motivation behind it was to get better at drawing and not lose my mind trying to find a job in a recession.'
"I think he got in touch with me shortly after that, asking me to contribute when I could. I was looking for an excuse to get back into art/illustration to explore new styles and ideas and just hone my skills. After a few weeks I just kind of shifted into a full-time role and it's been a partnership ever since. If you take a look through our archive, you can really see a growth, through a number of distinctive styles we've spent time exploring."
Kastner's Derrick Rose
McGrath's Mark Price
Why basketball art?
"Honestly, basketball has always just been a constant in my life. Both of my parents were always coaching/playing/reffing at different levels, and as far back as I can remember I was on a sideline or in a gym somewhere. As I got more and more into art as I grew up, basketball became a natural source material as it was one of my oldest interests.
"I've always been a huge fan of the history of the game, and this has given me the opportunity to become more knowledgeable just by constantly looking for the next piece or next project; a great example of this would be the 'Respect Your Elders' series I did last year."
Similarly, what is behind your style?
"Personally, my style is all over the map. I just enjoy the act of creating. I'm constantly trying to improve -- whether it be drawing or painting or improving my skills digitally in Photoshop and Illustrator. I take inspiration from the world around me, especially other artists. Our blog is a Tumblr blog, and following other artists and art blogs has been a great way to constantly be inspired by new work."
McGrath's Terrell Brandon
Kastner's Rajon Rondo
So when you post stuff from others, what catches your eye?
"We've always been willing to share the work of anyone who is interested in being a part. The site is open to anyone and everyone regardless of skill level or training.
"If I come across some basketball art, I'll usually do a little research and try and find some contact information, let them know who we are and [what] we do and ask if they'd like to post some of their stuff. Too often in this Internet age people's work gets passed around and redistributed without giving credit to the artist. We always want to make sure we have the artist's permission and give as many links to their sites and information as possible."
So, kind of looping back around to the gallery, how are you going about finding the pieces for this exhibition?
"We made a list of friends we've made along the way, people who have contributed and been allies in spreading the love about the site and we invited these people first. We're also accepting submissions for consideration until Oct. 14."
Here's a look at some images from other artists to be featured in the gallery:
Maddison Bond's "Bonner to Bonner"
Eli Neugeboren's Rajon Rondo
Dustin Watson's Michael Jordan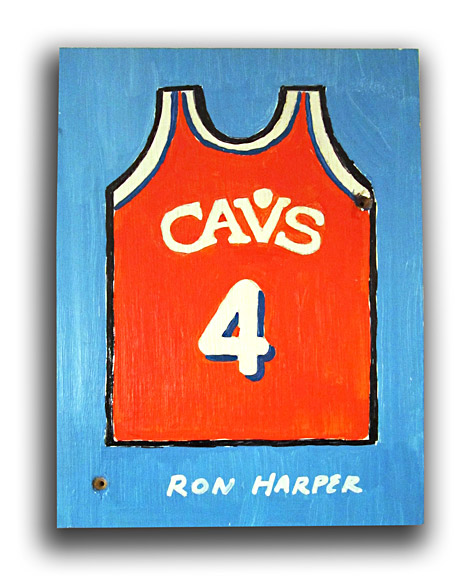 Robb Harskamp's Ron Harper jersey