LAS VEGAS -- Last week I tweeted a picture of NBA star Paul Pierce playing in the $10,000 pot-limit Omaha. To my surprise, it was picked up in a variety of places with one common theme: the fact that he was playing poker and getting a massage at the same time.
The response of the massage was intriguing and I've spent a little more time paying attention to the "side action" at the tables. On Day 2C, I found an alarming trend happening throughout the Amazon, Brasilia and Pavilion Rooms. While I'd estimate that maybe three percent of poker players in the event ever get a massage throughout the entire tournament, I witnessed five eliminations so far on 2C as the massage was in progress. That of course created the awkward moment where not only is a player devastated after their loss, but now they have to pay their masseuse and walk away.
Regular tournament grinders are accustomed to the availability of masseuses in major events. Some players, like Greg Mueller, often keep their massage going as long as they are at the table. Greg Merson tweeted on Day 1 that his masseuse was the best. Two other former main event champions are in the same boat.
"I'll get a massage if I need to relax or if I actually have any tightness or pain," said Joseph Hachem who has 21,000 in chips on the second break of the day. "But if I lose a big pot while getting a massage, it sends me completely on tilt and I quit the massage because of the beat. It happened to me on Day 1C and I just said I was done."
Jamie Gold spent $30,000 on massages during his main event run in 2006.
"If I'm not getting enough exercise or if I'm feeling stiff at the tables, I'll get one to make me feel more loose," said Gold who says it's hard to find a picture of him at the felt without a masseuse behind him. "I feel like I play more better and if I'm tilting, it'll bring down my level of tilt. ... I feel more energized and try to get in a zen kind of place."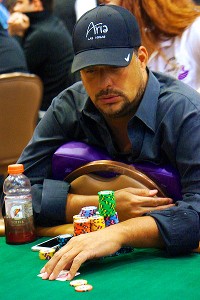 Jay Newnum
Jean-Robert Bellande gets a massage on Day 2C of the main event
The job of the masseuse is to provide that relaxation, but when a tournament take a turn for the worse, they often feel a certain level of guilt.
"It's exhausting," said Nicole, a masseuse in the Amazon Room on Day 2C. "Sometimes they cut the massage short as soon as they lose a pot and it's embarrassing. It makes you feel that you are bad luck, which obviously we are not."
Massages cost $2 a minute and Stephanie, another masseuse in the Amazon Room said that her average massage usually lasts about a 30 minutes.
"As far as tips, it really depends on the player," she said. "Some tip very generously, but then others will give you absolutely nothing. It varies a lot depending how well they are doing during the massage."
Visitors to the WSOP can also get massages in the hallway for the same rate, which is actually more expensive than the prices at the full Rio spa. Prices aside, massage therapy at the tables may be a tiny industry within the poker industry, but it's absolutely a niche that needed to be filled.
Small Blinds: Johnny Chan was getting into his music in the Brasilia room, standing and bobbing when not involved in a hand. ... Daniel Negreanu was eliminated during Level 7. ... The media event begins at the dinner break. ... Mark Kroon still leads on Day 2C. ... Doyle Brunson showed up to take pictures with his bronze bust at the feature table earlier today. ... Phil Hellmuth is seated at a very tough table and is talking to himself as always. I'm sure Brent Hanks and Jennifer Harman feel lucky to be graced with the rants today. ... Vancouver Canucks goaltender Roberto Luongo was eliminated during the last level. ... Recent eliminations include Perry Friedman, Nick Schulman, Adam Levy, Brian Devonshire and A.J. Jejelowo. ... Michael Mizrachi was off to a tough start, but rebounded and is back over 200,000 in chips. ... The $1,675 Carnival of Poker main event begins on Thursday with a single re-entry.