LAS VEGAS -- Greg Merson's bid for a back-to-back main event title has ended. The 2012 world champion was short all day and moved all-in with A-2 midway through Level 22. Brett Richey called, showed A-K and held as the board ran K-3-2-9-4. Merson received a warm ovation from the crowd as he exited in 167th place, earning him $42,990. While the result wasn't exactly how he envisioned this tournament playing out, he still was a bit satisfied and relieved.
"It's a relief that someone else is going to win," said Merson after his elimination "I mean, I was trying to win, but I don't like this whole media stuff. ... Honestly, during this main event, every break wasn't a break. My breaks were when I was playing poker. It was hard to get privacy to relax, but it is what it is."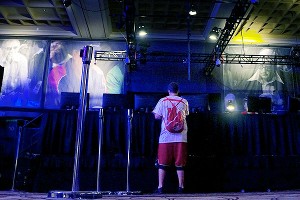 Jay Newnum/BLUFF
Greg Merson confirms his elimination with the tournament staff on Day 5.
Merson, who has a close relationship with Phil Ivey, believed that the idea of getting a trailer outside of the Rio, like Ivey did, is the right thing to do to avoid the attention. That said, Merson did his best as an ambassador for the game, even if he didn't want the spotlight.
"I wanted to represent the game as well as I can," said Merson. "It's just that a lot has changed since online poker shut down, and the opportunities for myself are much different than the previous nine winners. It's a lot easier to do five interviews a day when you have a seven-figure contract, but I pretty much represent Ivey Poker and myself. I never went into poker to be this big famous person, and if I'm not getting paid for it, I could care less. I don't care about the glamour or anything."
Regardless of his feeling toward interviews and everything that comes with being the man with the most prestigious bracelet in the game, Merson played a phenomenal main event with a patient approach that, for the second consecutive year, was essentially flawless. He let others get involved in the major confrontations and avoided big variance spots, and that led him past more than 12,000 players in the main event over the past two years.
From here, Merson, who said he found a great life experience from all the traveling he's done over the past year, will go on vacation, then back to Macau for the biggest cash games in the world. He's also looking forward to relaxing at home a bit, which he said would make his parents very happy.
Small blinds: Lots of screams around the Amazon Room today as the friends and family of the players have started to arrive and are cheering loudly from the rail. ... Chris Lindh is the first player with more than 4 million in chips. He has taken over the lead from Jon Lane. ... One hundred forty-nine players remain in the main event. ... Annette Obrestad has 2.6 million in chips. She leads the final four women in the field. ... A guy who was recently eliminated has been staring at the tournament clock for two minutes. He doesn't want to leave. Wait, he just left. And walked over to another one. ... At one of the outer feature tables the players are talking about making the final table. Steve Gee chimes in saying that he made it, and one of the players asks him when. He says last year and it was shrugged off. Guess there's no respect for the final remaining member of last year's final table. ... Carlos Mortensen is the last remaining WSOP main event champion.