LAS VEGAS -- Day 5 was moving day at the 2013 World Series of Poker main event as players tried to build their stacks and gain an edge heading into the final few days. Greg Merson's title defense ended early on Day 5, as did the hopes of Greg Mueller, Annette Obrestad, Marvin Rettenmaier, Vivek Rajkumar, Max Steinberg, Ronnie Bardah and Day 4 chip leader Jon Lane.
While 2012 ninth-place finisher Steven Gee continues his quest for back-to-back final-table appearances, it was Sami Rustom's time to shine and he'll lead the final 68 players who will continue their quest Sunday for the bracelet and the $8.3 million grand prize.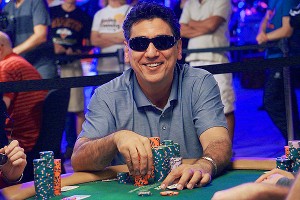 Jay Newnum/BLUFF
Chip leader Sami Rustom is all smiles as he competes on Day 5 of the WSOP main event.
Rustom began the day second in chips and maintained a spot in the top 10 nearly all day, finishing with 7 million. He edged out Canadian Marc McLaughlin for the lead by just a few big blinds, and it was McLaughlin who received a vote of confidence at the end of the night in the form of a tweet from the reigning champ.
"For those who want a great player to root for in the main its @Go_Irish_Go, very talented online cash game player. Gl man," said Merson.
McLaughlin had six career WSOP cashes prior to this main event, including one final table and two in the main event.
Ryan Riess, runner-up in the 2012 WSOP Circuit Hammond main event, made the biggest move at the end of the night and finished in seventh with an eye on the final table. The Michigan State alum was pleased with his play and felt that his timing was great on such a critical day.
"I ran really good today," said Riess. "It's amazing [to be among the leaders]. I'm honestly speechless. All I wanted to do since I was 14 is play poker, and after the Circuit main event in Hammond last year, it gave me enough money to travel and play, and we're still in it."
Carlos Mortensen's quest for a second main event title continued with a strong upswing late in the night. Mortensen entered the day with 302,000 in chips and put them to use quickly and efficiently all day. His best level came after dinner and at the expense of a cooler to Rettenmaier (K-K against Q-Q), and he was able to turn on the aggression to finish the night with 2.6 million in chips. With this cash, Mortensen will have at least $11 million in lifetime career earnings.
The last woman standing is Australian Jackie Glazier, who was all smiles as she left for the night with 4 million in chips thanks to one key river card. Glazier moved all-in on a board of 8d-6c-2d-8s for just over a pot-sized bet of 1.5 million. Chris Johnson thought for minutes as Glazier anxiously awaited his decision with a stare at the felt. Johnson called with 7-7, which was ahead at the moment. Glazier showed Ad-10d and needed an ace, 10 or diamond, and as the dealer placed the 10h on the river, Glazier's rail erupted in an "Aussie! Aussie! Aussie!" chant that made the entire room turn and wonder if Joe Hachem had returned. Glazier, a member of Team Ivey, now has six career WSOP cashes, including one final table.
"I actually didn't think he was going to call there, " she said. "It was a very ballsy call, but the hero call doesn't always pay off. ... [If I make the final table], there will be one big party in Melbourne."
Some notes on the strength of the remaining field:
There are five World Poker Tour champions left (Mortensen, Noah Schwartz, Yevgeniy Timoshenko, JC Tran, Mark Newhouse)

Marc McLaughlin has made the top 100 in the WSOP main event in three of the past five years

Yevgeniy Timoshenko has won the WCOOP main event and the WPT Championship

There are seven bracelet winners remaining (Mortensen, Tran, Amir Lehavot, Rep Porter, Steven Gee, Vitaly Lunkin, Jim Collopy)

There is one EPT champion, Vladimir Geshkenbein.
Here are the chip leaders after Day 5:
1. Sami Rustom (7 million in chips)
2. Marc McLaughlin (6.6 million)
3. Jason Mann (6.5 million)
4. Maxx Coleman (6.2 million)
5. George Wong (5.7 million)
6. Sylvain Loosli (5.6 million)
7. Ryan Riess (5.6 million)
8. Keanu Tabali (5.4 million)
9. Matthew Reed (5.2 million)
10. Chris Lindh (4 million)
Small blinds: Steven Gee peaked at 3.3 million and ended the night at 1.4 million. He was not happy with his play at the end of the night, but was happy he still has a chance. ... 2013 bracelet winner Jesse Martin was live tweeting at the feature table with an eye on Rep Porter and JC Tran. ... While some players planned on leaving for the night and going to bed, others planned on heading to the craps tables. Or at least that was the plan. ... When action resumes Sunday, the blinds will be 25,000/50,000 with a 5,000 ante. ... The average stack is 2.8 million. ... There are nine players who are returning Sunday with fewer than 20 big blinds. ... Amazon table No. 440 tomorrow features Mortensen, Tran and Timoshenko. Translation: You'll see this table on TV. ... The Day 5 Poker Edge includes interviews with Merson, Glazier, Riess, Schwartz and Gee.