Remember everything I wrote in the last blog? It's time to turn the tables. The younger generation of poker players has played in thousands more tournaments than the old guard. They've studied the game and taken strategy to a new level to the point at which they believe they have every situation analyzed in their mind before it happens on the felt.
Doyle Brunson and Erik Seidel are still coasting through Day 2, but they aren't leading the way anymore. Midway thorough the fourth level of the day, the top 10 chip leaders look like what you'd see if someone were to craft a list of the game's young rising stars.
Raj Vohra leads the field and has for most of the afternoon. The former tennis pro turned to poker after seeing Joseph Hachem's victory in 2005 and hasn't looked back since. He's won major online tournaments, finished fifth in a WSOP event in 2008 and cashed in the Main Event two years ago. So far on Day 2A/B, he's positioned himself for a deep run and appears to like his table as he sits in the Brasilia Room.
Also in the top 10 is some guy named Greg Merson. Yes, the defending champion. Merson has gained chips in each level on Day 2A/B, most recently due to his river-found elimination of Wilfried Harig. That might sound familiar to most as -- if you caught any of the Day 8 action during last year's Main Event -- Merson put a similar beat on the German then to eliminate him from contention. With 250,000 in chips, Merson is the talk of the Amazon Room and will be if he's able to bag a leading stack later tonight.
If you're at all familiar with the online poker scene, "OMGClayAiken" is perhaps one of the most famous handles in the world. The owner of that handle, Phil Galfond, revolutionized the online game and has become a vocal leader for the younger generation of professional poker players. He's founded online training sites and competed in the game's nosebleed cash games in which he found tremendous success. Unlike some other online stars, Galfond's online success has always translated to the live game. In 2008, he won his first bracelet and, just weeks ago, he was the runner-up in the $25,000 six-handed event. He made a deep run in the 2010 WSOP Main Event, finishing 141st, and is on his way to another one, thanks to a big hand before dinner in which he flopped a set and enticed his opponent to put his 40,000-chip stack into the center.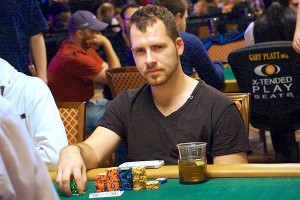 Jay Newnum
Daniel "Jungleman" Cates is among the leaders on Day 2 A/B.
Then there's Daniel "Jungleman" Cates. His handle is synonymous to a swingy, aggressive player who had major bankroll issues prior to Black Friday. He never truly found his comfort zone in live tournaments, and that's why his presence in the top 10 is that significant after nearly two days. While the confidence level is high for the other three on this list, Cates' past doesn't allow for me to make that claim just yet.
Blinds are now 500/1,000 chips with a 100-chip ante.
Small blinds: Legends Doyle Brunson and Dewey Tomko are seated together. … Former Main Event champion Joe Cada was eliminated shortly before the dinner break. … Dan Harrington is wearing his customary green hat in Brasilia today. You just can't miss him. … Third-place finisher in the 2012 WSOP Main Event, Jake Balsiger, was eliminated after dinner. Merson and Russell Thomas are the only two remaining players from last year's final table in action today. … Dinner? Not for everyone. It's always funny when you walk to dinner break with the players and instead of going into the restaurants, they go right to the craps table. … The WSOP hosted a screening tonight of the poker documentary "Bet. Raise. Fold." … Has anyone seen the list of Team Ivey pros these days? Who are these people? … The world's former No. 1 online poker player, Chris Moorman, was eliminated during Level 9. … Ray Romano was spared Erik Seidel's aggression as their table recently broke. … There are five tables left in the Orange section of Amazon, which means there are a total of 36 tables left from the Day 1A field. … Matt Glantz defeated Greg Mueller in the World Series of Board Games during dinner. Mueller was tilted over his loss in "Guess Who," with the board featuring only poker players. I am 1-0 in it. Take that, Lance Bradley. … Rob Salaburu was looking for sponsorship from Ultimate Poker on Twitter. Do we think they bite? … There is a huge rail around Merson's table, which also features Olivier Busquet and Dan Fleyschman. … Annette Obrestad, the youngest "main event" champion in history (she won WSOP Europe in 2007), is also one of online poker's biggest stars and recently moved into the top 10 as well. She's definitely part of the conversation discussed above.