LAS VEGAS -- It is one of the greatest moments in all of tournament poker and hands down my favorite part of the week so far. Six hundred forty-eight players applauded loudly as they reached the money in the 2013 World Series of Poker main event. Day 4 began at noon with 666 players and by 12:50 p.m., only 650 remained in action. The first hand of hand-for-hand action resulted in two all-ins and one elimination. On the second hand, two players were all-in once again and while one survived, three-time WSOP champion Farzad Bonyadi could not and he was eliminated in 649th place. Bonyadi received the one ovation a player hates to hear, and walked out of the Amazon Room in front of a crowd full of supporters cheering, giving hugs, making phone calls and taking pictures. As if it's any consolation, Bonyadi was awarded a seat into the 2014 WSOP main event.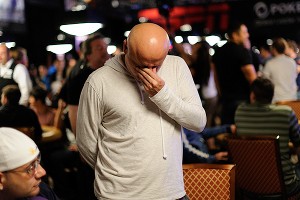 Jayne Furman
Farzad Bonyadi reacts after his elimination in the 2013 WSOP main event.
Since his elimination there's been a steady stream of exits and that will be the trend now that players have secured some money for their four-day effort. The tournament staff is expecting to play five levels once again on Day 4.
Small blinds: Ronnie Bardah and Christian Harder have tied the record for most consecutive main event cashes with four. ... Greg Merson, Doyle Brunson and Carlos Mortensen remain alive with their quest for another title. ... Players are no longer to use any headsets during play. No more listening to music. Just table talk. ... It's great to see the family members celebrate on the rail. Speaking of the rail, it was absolutely huge during the bubble. ... Four players have more than one million in chips: Matthew Huey, Maxx Coleman, Kevin Williams and Herbert Farber. ... This is Doyle Brunson's eighth main event cash. ... Greg Merson becomes the first main event champ to cash in the following year since Peter Eastgate in 2008. ... Harder is one of the most recently eliminated players. ... Michael Mizrachi told me earlier today that he had no idea how many players make the money or what anything pays. He doesn't like to look at that during a tournament. ... Brandon Steven told a player at his table to leave after doubling up early. Why? The player went on and on about making the money and how it was his first tournament, etc. The player left but returned for the two bubble hands, without the coffee Steven asked him to get. ... The feature tables today include Brunson, Merson, Melanie Weisner, Court Harrington and Annette Obrestad. Obrestad is a former main event champion, just from WSOP Europe. She won that event at 18 years old. ... Players come to the payout line with a mix of emotions. Some happy, some devastated, some just on their phones tweeting the hand.