LAS VEGAS -- The entire Amazon Room learned the name Jason Mann during Level 19. Mann topped Dick von Luijk in the biggest pot of the tournament thus far and eliminated the player who was the first person in the field who had more than 1 million in chips. Played out on an outside feature table, Mann was put to the test by Luijk, who moved all-in for nearly 800,000 after a 7-6-2 flop. Mann took his time to work through the decision, then ultimately called and confidently flipped over aces. Von Luijk shocked the table as he showed K-6, and Mann headed to his rail in celebration as his hand held through the turn and river.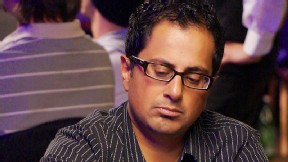 Jay Newnum
Jason Mann leads the Day 4 field with 2.4 million in chips.
Mann finished 249th in the main event in 2011 and won the West Coast Poker Championship high roller in 2012. He's the first Canadian to hold the chip lead over the past four days and does so with 2.4 million in chips.
Moments later at the next feature table over Day 2A/B chip leader Nick Schwarmann lost most of his stack to Grayson Ramage. After a board of Q-8-7-Q-10, Schwarmann, who was the aggressor during most of the hand, moved all in for over 700,000. Ramage worked through the options relatively slowly, then called for his tournament life. Schwarmann showed 2-2 and Ramage sat relieved as his A-Q brought in a nearly 2 million-chip pot. Ramage finished 35th in the 2009 WSOP main event.
Only 283 players remain in the hunt for the $8.3 million top prize and the championship bracelet, which is valued at $500,000.
Small blinds: Only two members of last year's final table remain in contention. Defending champion Greg Merson and Steven Gee, still sitting side by side, were surprised to hear of the eliminations of Russell Thomas and Rob Salaburu. Thomas' downfall came in a hurry, and he was eliminated when he couldn't win a race with A-K over Q-Q. ... Greg Merson's table is now being moved to the feature table for the final level of the night. ... Recent eliminations include Ludovic Lacay, Adam Friedman, Melanie Weisner, Allen Cunningham, Matt Marafioti and Jon Turner. ... J.C. Tran recently doubled up to his high point in this tournament (880,000 in chips). ... Greg Mueller and Brandon Steven might as well have a massage last-longer bet. ... Carlos Mortensen is now seated at an outside feature table. I don't believe he's said a word in four days. ... There are seven women remaining in the main event. ... Marvin Rettenmaier cracked the 1 million chip mark during this past level. ... There's been a pretty big buzz in the room tonight. Nothing like a Friday in Vegas.