Michael Mizrachi is the most decorated player in the Day 1C field. No, I'm not talking about his three WSOP bracelets, two WPT titles or $14.4 million in tournament earnings; I'm talking about his patches. Over the past few years, perhaps since his November Nine appearance in 2010, "Grinder" has become one of the game's most prolific endorsers, and, today, sitting behind a massive 200,000-chip stack, these companies are going to be getting a heck of a lot of face time.
Observing Mizrachi's table tonight is simply entertaining. In true "Grinder" style, he's playing the majority of hands with limited discretion about what cards he's actually holding. From 3-7 to Queen-4 to Queen-9 to Jack-6, Mizrachi is calling or raising just about everything preflop and then winning the pots by either running good to get there or outplaying his opponents. Players often strategize with a thought process of putting a player on a hand, but against Mizrachi, it's pretty much impossible. That's just the way Mizrachi likes it.
Of course, there's a major concern with this strategy, and that's why Mizrachi most likely won't end the night with 200,000. His hyper-active approach, which he probably won't stop anytime soon, will either result in a significant padding of his stack or a substantial loss. The rest of the players at his table, including tournament veteran Scott Freeman, are probably just waiting for the moment to pounce and take advantage.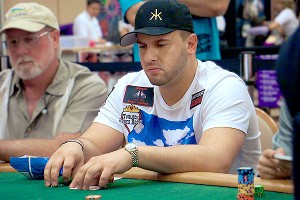 Jay Newnum
Through four levels, Michael Mizrachi is the Day 1C chip leader.
All that said, I'm talking about one of the true stars of the game. He puts in more volume through his travels around the world than 95 percent of his competition here at the WSOP. He's already made the Main Event final table during the post-boom era, and if there's anyone who can figure out a way to exploit his competition and do it again, it's Mizrachi.
As Mizrachi soars, he's joined at the top of the chip counts with a number of familiar faces: Vanessa Selbst, Freddy Deeb, Vivek Rajkumar, Jason Koon and Marvin Rettenmaier have all eclipsed the 100,000-chip mark. Shaun Deeb, Jeff Gross and Jennifer Tilly were eliminated during the last level.
Small blinds: In the last 20 minutes of the level, Phil Hellmuth's stack went from 14,000 to 59,000. … Joe Hachem has agreed with his table that they'll show one card during each contested pot. That is definitely working out in his favor. He also said they'll celebrate the end of the night together with a round of shots. … At the table next to Hachem, Carlos Mortensen is preparing for a Day 2 chip castle construction. He's easily the leader at his table. … Rob Salaburu is back to his quick-acting ways. It's almost like he just throws a couple chips off the top in pure randomness just to beat his opponent into the pot. … David Sands might be the youngest player at his table by 15 years. … Jean-Robert Bellande and Eric Baldwin are seated together. … Will Failla has taken Jonathan Duhamel's seat in the Blue section. … Tournament director Jack Effel announced the prize pool to the field before the start of Level 5. The $8.3 million first-place prize received just a small round of applause.