In my family, when somebody says something funny but useless, we say,
"Congratulations! You just won a cheese sandwich!"
I do not know why. My family is not well.
Anyway, if you're good at tweeting funny but useless stuff, you can win the cash equivalent of a cheese sandwich -- $7.93! (That's roughly the cost of a grilled cheese sandwich, plus fries and a Coke at Denny's. Best I could do.)
All you have to do is go to my Twitter page (@ReillyRick), check out the #Cashtag of the week, and send in the funniest, or catchiest, or stunningly ingenious answer.
For instance, if the #Cashtag is: #ThinnestSportsBooks
... and you send in:
Season in the Clink by Plaxico Burress
... you might get a check for $7.93!
Or if it's: #StuffO.J.MightTweet
... and you send in:
When I get out, I'm going to be GREAT at putts of 12 feet or less.
... you might get a check for $7.93!
Or if it's: #UseANewYorkGiantNameInASentence ...
... and you send in ...
Mom: How you'd do on your essay about Civil War generals, Billy?
Billy: I got a D on Grant.
... you might get a check for $7.93!
Note: True, this is not much money, but this is my own money, not ESPN's money or Disney's money or Chris Berman's money. So please don't hack into my account and take it all.
I'll take one question. You, sir.
You: Isn't this just a "cheesy" way to get new Twitter followers?
Me: No, it's a cheesy way to get new Twitter followers and an easy weekly post.
Rules: You have to be 13 or older, although I have no idea how we're going to check that. Also, by sending in an answer, you agree to let us post it on ESPN and/or let me post it on my Twitter feed. If you win, you owe taxes on this money. Also, if you win, you have to give my wife your address to send the check by snail mail. And no, she won't be coming to your door.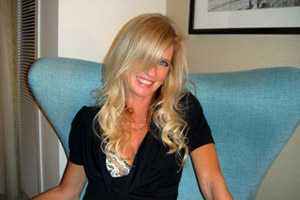 Rick Reilly
Cynthia Reilly
You wish.
More rules: Don't be dirty. Don't be insulting. Answers have to be 140 characters or fewer. See complete official rules below.
And if you rip off somebody else and win and then I find out you stole it, I hope your hair falls out, all at once, while you're being interviewed by Wolf Blitzer.
Rick Reilly #CashTag Official Rules
NO PURCHASE OR PAYMENT NECESSARY TO ENTER OR WIN. VOID
WHERE PROHIBITED BY LAW.
These are the Official Rules for the Rick Reilly "#Cashtag" Contest (the "Contest") sponsored by ESPN Internet Ventures ("Sponsor").
1. ELIGIBILITY: Open only to legal residents of the United States, 13 years of age or older as of entry date. All employees of Sponsor, its parent company, affiliates, franchisees and subsidiaries, and the immediate families and household members of each, are not eligible to enter or win.
2. ENTRY: Rick Reilly will occasionally tweet a subject out to Twitter containing #Cashtag. To enter the Contest, entrants must submit their responses by utilizing Twitter to tweet them and include #Cashtag in the response. Sponsor is not responsible for technological difficulties that might arise and prevent users from entering the Contest. Sponsor may use your submission online, in print, on television or in any other forms of media. Your submission may be cut, edited and/or added to for any reason and in any manner which Sponsor determines.
3. JUDGING: Rick Reilly will select one (1) winner from all entries submitted for that subject based on the originality and creativity of the response. The decisions of Rick Reilly are final.
4. PRIZE: Rick Reilly will personally issue each winner a check in the amount of $7.93. Winner will be notified through Twitter or by mail, email or phone. If prize notification or attempted notification is returned undeliverable, the prize will be forfeited and may be awarded to an alternate winner. Unclaimed prizes may not be awarded.
5. RELEASE/PERMISSION: By entering, entrants agree to: (1) release the
Sponsor, its parent, subsidiary, affiliated and related companies, and franchisees, and any of their employees, officers, members, directors and agents from all liability, injuries, loss and/or damage of any kind arising from their participation in the Contest and the acceptance, possession and use/misuse of any prize; (2) be bound by the Official Rules and the decisions of the Sponsor and the judges; and (3) be contacted by email, phone or mail. By accepting a prize, winner consents to the use of his/her name and likeness for potential advertising and promotional purposes without additional compensation in all media worldwide.
6. GENERAL: The Contest is subject to all applicable federal, state and local laws and regulations. The invalidity or enforceability of any provision of these Official Rules shall not affect the validity or enforceability of any other provision. In the event that any provision is determined to be invalid or otherwise unenforceable or illegal, these Official Rules shall otherwise remain in effect and shall be construed in accordance with their terms as if the invalid or illegal provision were not contained herein. Sponsor reserves the right to make changes in the Official Rules without notification.
7. SPONSOR: ESPN Internet Ventures, 605 Third Avenue, 8th Floor, New York, NY 10158. © 2012 ESPN Internet Ventures.