Remember a couple years ago when, in an act of desperation, I tried to end my 40-year hole-in-one drought by going round and round on a par-3 golf course until I made a hole in one?
And I said that even though it took 694 shots to do it and it was only 52 yards and I often hit 10 balls per hole, it was nonetheless official and real and it didn't matter what haters like the USGA said?
Well, forget all that.
I have a real one now.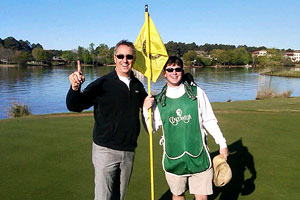 Rick Reilly
Rick Reilly takes a victorious photo with his caddy, Brendan.
It happened Sunday at the very creamy Cuscowilla on the bonny shores of Lake Oconee in Eatonton, Ga. (Cuscowilla is Shawnee for "Land of Second Homes with Boat Slips.")
I would go on and on about it, but we paid full price, so I don't really need to. Yes, two golf writers paid full price. We have the receipts.
ESPN.com columnist Gene Wojciechowski and I were playing there because it's on the drive from Atlanta, where we landed, to Augusta, where we'll cover the Masters this week, which Phil Mickelson will win.
Anyway, I flew it straight into the 112-yard 11th hole, which is now the single most beautiful hole in the world. And yes, it probably would've ended up over the green if the hole hadn't jumped in the way, but why must you nitpick?
"Ohhhh!" yelled the 21-year-old forecaddy, Brendan. "Ya HOLED it!"
I can't remember quite what happened next but when I regained consciousness, I was wearing no hat or glove and was being carried around by Gene with my legs wrapped around his waist like he was Yogi Berra and I was Don Larsen after a perfect game.
Wojciechowski immediately tweeted that I'd knocked a little "4-iron" into the hole. Funny guy.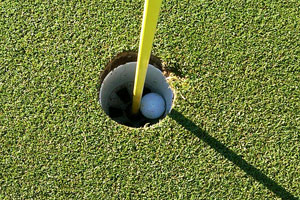 Rick Reilly
Here's the proof: Rick finally made a hole-in-one!
"Sneaky long," somebody tweeted back.
"Try the men's tees," somebody else cracked.
For your information, it was a gap wedge and it wasn't even my gap wedge. We rented. Yes, we rented clubs.
The joy didn't last long. Brendan warned me that the day before, a guy had aced No. 3 and it had cost him "about $1,000. We were having a tournament and the whole clubhouse was packed."
So after signing for my sporty little 89 (thank you, 11th hole), I entered that clubhouse with dread, only to find almost nobody in there. It was as empty as Monday morning church. Only one person took me up on my offer to buy the house a drink.
"Plus we're having a lunch special today," said the waitress. "Dollar drafts. So you're out a buck."
Second-best one I made all day.