SANTA CLARA, Calif. -- For the past five weeks, regardless of opponent, the San Francisco 49ers have found a way to stay close but come up just short in a series of maddening losses.
One way to look at those defeats is to acknowledge how close the Niners have been to winning all of those games and sitting in a much better position than their record would indicate.
But, as Niners coach Kyle Shanahan pointed out on Sunday, there's actually a door No. 3.
"Every single team in the league, there's a very fine line between being in a game, winning a game and getting your butt kicked," Shanahan said. "It's not as big of a distance between all three of those as sometimes it seems."
The 49ers found that out the hard way in Sunday's 40-10 loss to the Dallas Cowboys at Levi's Stadium. It was the Niners' biggest loss since 2015 and their biggest defeat at home since 2009.
All along, the assumption has been that when the Niners finally break through and do something other than lose a close game, it would mean a victory. Instead, the opposite happened and a team that has spent more than a month on the verge of victory suddenly found itself looking further away from one than it has at any point this season.
Sunday's loss left the Niners and their fans wondering what, exactly, just happened?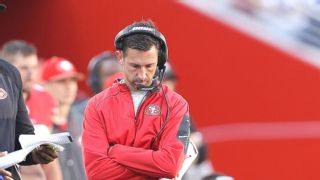 Without the benefit of watching game film yet, Shanahan offered his analysis of what was easily his team's most disappointing performance of the season.
"Thought we came out pretty strong and I thought we had a chance early in that game," Shanahan said. "I thought our defense did a great job on the first three-and-out. Sent a punt, we fumbled the punt on the return and they went in and scored, 7-0. I know they held us in our first series and the next one I thought we stopped them. I think we stopped them. Ended up getting a defensive PI call, which kept them going. They got up 14-0, got in a little bit of a hole. I thought we had a chance to recover on offense. Especially there at the end of the half and missed that opportunity when we got inside the 10, which I thought should have made it 20-10 going into the half and then we come out and get the ball. We came up short.
"I know it doesn't look good, but it's a very fine line between all that stuff. When you turn the ball over like that and you miss opportunities, whether you have a young team, a rookie quarterback, a rookie, regardless when you turn the ball over like that and you miss those opportunities, that is the result in the NFL."
Through the course of the first six weeks, Shanahan repeatedly maintained that one of the positives of his team's losing streak, if there was such a thing, was that it would give him a chance to evaluate what his young players are made of. The Niners are one of the league's 10 youngest teams and had 12 rookies on the active roster Sunday.
Despite a devastating series of near-misses, Shanahan's Niners fought back every week to make those games close and seemed to have a short memory going into the following game. After Sunday, the challenge will change a bit. It's easier to sell a team on being close after a narrow defeat than after a 30-point drubbing.
And to be sure, this was a drubbing. The Cowboys outgained San Francisco 501 to 290, averaging 7.2 yards per play to the Niners' 4.5 and finishing plus-three in the turnover battle. Any of those three statistics individually is often enough to win but taken at the same time you have a recipe for a blowout.
Thrashings also add an element of frustration that might not have previously been visible. At one point in the second half, cornerback Rashard Robinson let his anger boil over and he fired his helmet into the ground. Safety Eric Reid eventually came over and talked to Robinson to calm him down before defensive backs coach Jeff Hafley brought all the defensive backs in for a group huddle.
"I just think it's an issue of the frustration that comes along when you don't get the results that you've been working so hard to get," Reid said. "We have been busting our tails, working extremely hard and when you don't get that result, it's frustrating. So I can't be mad, I know tempers flare a little bit, especially when you lose a game like we lost today but he's upset and I can't be mad at him for that."
Such examples of veteran leadership will undoubtedly be needed moving forward as the Niners still have three more games before their bye, including a tough trip to Philadelphia next week.
How will they bounce back from this one and who will step up to ensure that games like Sunday's don't become the norm rather than the exception?
"I'm glad I'm in this locker room and I'm glad I'm here during this time because it gives me an opportunity to go around the locker room and make sure that nobody hangs their head because we lost," receiver Marquise Goodwin said. "Me being in my fifth year and dealing with some adversity, I've been in positions where I felt like a lot of people was against me and overcame that. I still lived every day, I still worked out every day as hard as I could. We can do that here. We will do that but everybody has just got to have the mindset and just stay focused on the task and really that's just to win each game each week and not look too forward ahead and don't look behind us.
"That's why they make the rearview mirror in the car smaller than the front windshield. You don't really worry about what's going on in the back until you really kind of have to. Just focusing on moving forward, what's in front of you so you don't run into even bigger issues. That's where we're at right now. We've just got to stay focused, focus on what's in front of us."