RENTON, Wash. -- Facing a 34-year-old running back would normally sound like a nice remedy for a Seattle Seahawks run defense that has been uncharacteristically leaky over the past two weeks.
Unless that 34-year-old running back is Frank Gore, an ageless wonder who was a thorn in the Seahawks' side for a decade during his days in the NFC West with the San Francisco 49ers.
The Seahawks and Gore will renew acquaintances when Seattle hosts the Indianapolis Colts Sunday night at CenturyLink Field.
"He's always been a special back in this league in regards to his style, being a slither type of runner who can get in between the seams of guys," defensive coordinator Kris Richard said Thursday. "It doesn't matter if you have your gap, he can still find a way to squirt through gaps and things of [that] nature. That's what's made him special. He's always been a tenacious back who's been very consistent."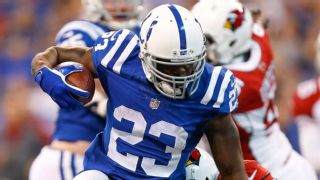 The Seahawks know that all too well. No one has tormented them over the years quite like Gore since he entered the NFL in 2005.
There have been some memorable -- or from Seattle's perspective, forgettable -- performances during that time. The two highest single-game rushing totals of Gore's career -- 212 yards in 2006 and 207 in '09 -- came against Seattle, albeit in a different era of Seahawks football. More recently, Gore combined for 182 yards on 21 touches during a Thursday night 49ers win over Seattle in 2012.
Gore's 1,421 rushing yards in 18 games against Seattle -- all with San Francisco -- are his most against any team during his 13-year career. He's eighth on the NFL's all-time rushing list and first among active players.
"Frank Gore is definitely a Hall of Famer at this time," Seahawks defensive lineman Michael Bennett said.
The Seahawks haven't faced Gore since 2014, the year before he signed with the Colts in free agency. The reunion comes as Seattle's normally sound run defense has been slumping.
The Seahawks allowed a league-low 3.4 yards per carry last season but have allowed a league-high 5.3 YPC over the first three games this season. They've been gashed by a pair of long runs over the last two weeks, a 61-yarder by the 49ers' Carlos Hyde and then a 75-yard touchdown run by Tennessee's DeMarco Murray last week.
Richard referred to those runs -- as well as two long touchdown passes by Tennessee -- as "humbling" for a defense that rarely allows big plays.
"It's time to hit the reset button. We're done with that," he said. "We've recognized the things that happened out there on the field and we know where we need to get better and we're just looking forward to getting back out there and competing again."
Seattle's defense was on the field for 43 plays and over 19 minutes in the first half Sunday, when the game-time temperature in Nashville was in the high 80s. Asked if fatigue played a role in the defensive mistakes Seattle made in the second half, Richard said it shouldn't have mattered. Talking about some of those big plays, Bennett said Seattle's defense wasn't aligned properly on Murray's 75-yard touchdown.
That was the longest run against the Seahawks since -- who else -- Gore scored on runs of 79 and 80 yards in the same game in 2009.
Eight years later, he's starting for the Colts ahead of former Seahawks backup Robert Turbin. Gore has averaged just under 3 yards per attempt on his 49 carries, well below his career mark of 4.4. But Richard believes "he's still got it."
"He still has his burst," Richard said. "He's still very effective running in between the tackles. That's what he prefers, that's always been his style, a couple of cuts, stick his foot in the ground and try to get as much as he can. He still has that explosive nature, he still runs with power and good pad level. He's still a really good back."