LEXINGTON, Ky. -- As just the second black head football coach in SEC history, Joker Phillips hasn't had much time to ponder the bigger picture and what it all means.
He's operating at light speed right now, having taken over a Kentucky program that Rich Brooks guided from the depths of NCAA probation to four straight bowl appearances.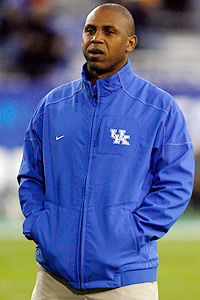 Mark Zerof-US PRESSWIRE
Kentucky coach Joker Phillips wants to up the intensity in the program.Now, before anybody huffs at the Wildcats' success the last four years and says everybody goes to a bowl game these days, take a look at who's actually done it in the SEC.
Only four other teams in the league -- Alabama, Florida, Georgia and LSU -- can say they've been to the postseason each of the last four years.
Some pretty lofty company, indeed.
Phillips' first order of business is keeping the Wildcats there, or as senior defensive end DeQuin Evans says, foregoing the water faucet route.
"We don't want to be that team where you can turn us on one season and then turn us off the next season like a water faucet," said Evans, who led the Wildcats in sacks (6) and tackles for loss (12.5) last season.
"That's not what we're looking for. Coach Phillips wants to elevate us. We want to be somewhere warm playing in the bowl game. The main thing is winning, and that's winning in the classroom, in the community and out on the football field. It's what we call 'Operation Win.' "
Phillips, 47, was named the Wildcats' coach-in-waiting following the 2007 season. Brooks was the one pushing for Phillips to be his successor, and it was important to him that he hand the program over to Phillips in good shape.
Under Brooks, Kentucky was able to upgrade its talent level significantly, particularly on defense, and built the kind of depth across the board the Wildcats have rarely possessed in the past.
The result: 30 wins over the last four years, three bowl victories and four consecutive seasons of at least seven wins -- something that previously hadn't been accomplished at Kentucky in nearly 100 years.
Phillips, who grew up in the Bluegrass and played at Kentucky, thinks there's still another level for the program.
"It will be difficult to get there," he said. "But it was difficult to get to where we are now. It's going to be difficult to climb these next couple of steps. We felt like we had to, and this is something Rich left us with, but we felt like we had to up the intensity level a little more, demand a little bit more.
"We do have more athletes now, and our athletes expect to win. We've been a little bit more demanding and have brought a little more intensity into the program to give the guys the belief that we're just as good as that next tier of guys we have to cross over in this league."
The Wildcats brought in former strength and conditioning coordinator Ray "Rock" Oliver to run their strength program, and the players say the results this offseason have been obvious. The other staff changes included Mike Summers coming over from from Arkansas to coach the offensive line, David Turner coming over from Mississippi State to coach the defensive line and former Tennessee quarterback Tee Martin coming over from New Mexico to coach the receivers.
"The only way to improve a program is to win football games," senior quarterback Mike Hartline said. "We brought in a great strength coach who pushes us to levels you never thought you could go to, and then you transfer that over to the field in practice.
"I don't think a lot has changed with coach Phillips and how the program is run, but there is a whole new intensity and atmosphere to Kentucky football. We're putting that extra time in and working a little more. That's how you go from that seven-win season to that 10-win season like we should have had last year."
Hartline's knee injury in the South Carolina last season handcuffed the Wildcats, who had to turn to true freshman Morgan Newton at quarterback the rest of the way. Randall Cobb also played back there some, but more as a runner, and Kentucky's passing game dropped to the bottom of the league.
Not surprisingly, the emphasis this spring has been improving the passing game and making it more efficient, and Phillips thinks the Wildcats will be much more diverse when it comes to throwing the football in 2010.
"Seeing the development of our skill people and Mike in his third year now and Morgan in his second year, we feel like we'll be better in the passing game and know that we have to be better at it," Phillips said. "We know we have to throw the football. We want to be balanced. We haven't been balanced the last two years."
For all of Brooks' success in leading the Wildcats back to respectability, they still had a losing record in the SEC in seven of his eight seasons in Lexington.
So if there is a proverbial next step for Phillips and the program, it's winning more consistently against SEC foes and taking down a few more nationally ranked teams. The triple-overtime win over eventual national champion LSU in 2007 was easily Brooks' biggest win, but it was also one of only two wins the Wildcats managed against Top 25 teams during his tenure.
"We want to be in those names when you talk about SEC championship teams," Cobb said. "We want to be in the notable games whenever they show them on ESPN. We're still not getting the respect that we want. That's one of the biggest things with this team. If we don't get that respect, we want to make sure we go out and get it.
"We've beaten Georgia on the road, beaten LSU and won some big games, but we need to win more of them. We have to be consistent. We have to win five and six games in the league every year before we get to that status."
Phillips counts his blessings every day to be taking over a program that has such a strong foundation. There's nothing to clean up, because Brooks did it the right way.
"If you know the history behind this program, it seems like every year they've had some success, there have been some (NCAA) sanctions come behind it," Phillips said. "This is a clean place. Rich has built a foundation of doing it the right way, and I want to build it the same way on that strong foundation he built for us."
Phillips takes seriously his role in opening doors for other black head coaches, particularly in the SEC, but he's not fixated on it. He's fixated on elevating Kentucky's program, recruiting and developing great players, graduating his players … and winning games.
"There's no doubt we can open up doors," Phillips said. "But again, it has to show up in the win column. If you look at Lovie Smith and Tony Dungy and Mike Tomlin, they're opening doors because they're winning. If they were losing, those doors would be closing behind them. The best thing we can do is win games."
Phillips says "we" because the three FBS head coaching jobs in the state of Kentucky are currently held by black men. Charlie Strong's at Louisville and Willie Taggart at Western Kentucky.
As fate would have it, Phillips and Strong once worked together on the South Carolina staff and have remained close over the years.
Just recently, the three of them all signed footballs for each other with the year and each of their schools' logos.
"We cherish this moment," Phillips said. "I play both of them. I wish Charlie would play Willie also. I'm looking forward to competing against those guys. We've already competed some in recruiting or as coordinators, but having a chance for all three of us to lead our own programs is a dream come true."