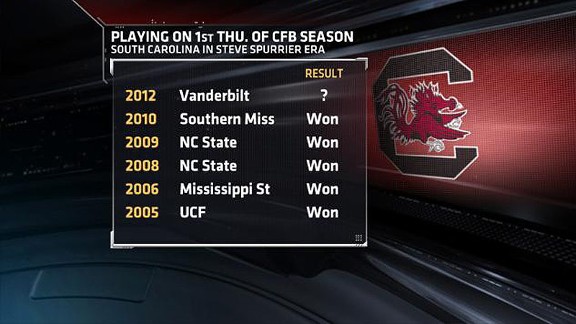 ESPN Stats & Information
South Carolina is 5-0 on the 1st Thursday night of the college football season under Steve Spurrier.


Thursday sees the return of college football with the ninth-ranked South Carolina Gamecocks traveling to play the Vanderbilt Commodores (ESPN, 7 p.m. ET).
South Carolina has dominated the series with Vanderbilt lately, winning 10 of the past 12 meetings. The two losses came in 2007 and 2008, when unranked Vanderbilt teams topped a ranked South Carolina squad.
South Carolina is very familiar with playing on the first Thursday night of the college football season lately, and it's become a staple of the Steve Spurrier era. The school has done it five previous times in the Spurrier era, and have come away with a victory each time.
The Gamecocks open as a top-10 team in the AP preseason poll for the first time in AP preseason poll history. They opened No. 12 in the poll last year and before that, their previous high was No. 14 in the 1959 preseason poll.
Gamecocks fans will be thrilled to welcome running back Marcus Lattimore back to the field. He missed his team's final six games last season after tearing his ACL. He proved crucial to the South Carolina run game, as even after missing those six games last year, Lattimore still finished as the team's leading rusher with 818 yards.
This is the second year of the James Franklin era for Vanderbilt. Last year, he became the only Vanderbilt coach in his first season to lead the team to a bowl game. The task this season could be challenging, as Vanderbilt has never made bowls in back-to-back seasons.
Talk college football with @ESPNStatsInfo today beginning at 3 p.m. ET. You can start asking questions now: #AskESPNStats