TUSCALOOSA, Ala. – The biggest challenge for both Alabama and Texas in the Citi BCS National Championship Game is returning to top form after more than a month layoff.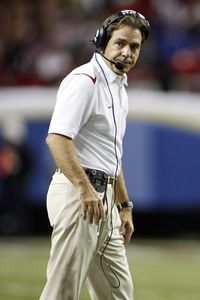 John David Mercer/US Presswire
Alabama coach Nick Saban said his team will try to recreate game-like situations because of the long layoff.
Alabama coach Nick Saban said Monday that the Crimson Tide have used these first few practices more as a means to get back into football shape and have gone heavy on fundamental work.
Not surprisingly, there's been some rust, especially on offense. Keep in mind that Alabama played perhaps its most efficient game of the season offensively against Florida in the 32-13 SEC championship win back on Dec. 5.
The Crimson Tide had nearly 500 yards of total offense, committed one penalty, didn't have any turnovers and only allowed one sack.
"It all comes down to rhythm," Alabama quarterback Greg McElroy said. "So much of our offense is based on rhythm. Sometimes when you're throwing the ball when the guy is already out of his break as opposed to right before he's coming out of his break can make a big difference. Having the two-week layoff that we had, it's been difficult the last few days to kind of get back to where we were for the Florida game.
"It's something that can get fixed with constant repetitions, and we'll have plenty of those in the next two weeks. Coach Saban will have us ready, and coach (Jim) McElwain will have a plan, and we'll be able to execute fairly strongly pretty soon. It just takes a couple of days to knock the rust off and get back on the same page with your (offensive) line and wide receivers."
With so much time in between games, Saban said there's always discussion about scrimmaging. But it's simply not worth the risk, injury-wise, to have 11-on-11 situations in which you take players to the ground.
"What we have discussed is trying to create as game-like a situation as we can in the spirit of safety for our players and having one situation, probably the last practice before we go home, that simulates a lot of the situations and game-like stuff," Saban said. "Now whether we tackle people to the ground and do things like it's a real scrimmage … I think the greatest opportunities to get injured are when people are on the ground.
"We want to try and avoid that, but we also feel like we need to do something that's very game-like that's going to help our players take the next step of getting ready for this game."
After all, Alabama's goal is simple, according to Saban.
"It's a challenge with all the things that go into playing these kinds of games," said Saban, who guided LSU to the 2003 BCS national championship. "But the number one thing we want to try and get with our players is to focus on the things you need to do to play your best football."