NEWPORT BEACH, Calif. -- Alabama's Javier Arenas is one of the most feared return specialists in college football.
As it turns out, he may have been a bit too feared this season. Hardly anybody kicked to him.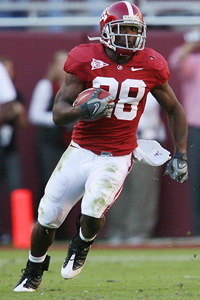 Kevin Liles/US Presswire
Alabama defensive back Javier Arenas needs 29 yards to become the NCAA's leader in punt return yards."That comes with the territory. You just have to be ready when they do," Arenas said.
Does he think Texas will kick to him on Thursday in the Citi BCS National Championship Game?
"I don't know, but I'm going to be ready," Arenas said.
The truth is he's been ready since the day he stepped foot on campus at Alabama.
A mere afterthought when he signed the last week before signing day back in 2006, Arenas never had any doubt that he would do big things at Alabama. He was down to Florida International, Florida Atlantic and Florida A&M before former Alabama coach Mike Shula decided to take a chance on him.
It's safe to say that chance paid off and then some.
The 5-9, 195-pound Arenas will play his final game at Alabama on Thursday as a consensus All-America cornerback, the SEC special teams player of the year and needing just 29 yards on punt returns to break Wes Welker's NCAA record of 1,761 yards.
For his career, Arenas has taken seven punt returns back for touchdowns, including one this season.
"I committed to Florida Atlantic and Florida International and I was excited to go there," Arenas recalled. "I was going to make a difference if I had gone there. Wherever I ended up, I was determined to make a difference.
"When Bama came along, everything kind of switched. But the determination to make a difference was still inside of me. That drive was still inside of me."
That drive is what makes Arenas so fearless (and feared) any time he's back deep on a punt return.
It's the same thing that's made him one of the better cornerbacks in the nation, whether he's coming on a corner blitz or wrestling away a pass from a taller receiver.
"It goes back to that window of opportunity, the chance to play for a great and prestigious university and make something of yourself," Arenas said. "Guys like that work hard. Every guy on this team works hard. But when you get a guy like me or guys that weren't really highly recruited, we go out and have so much fun because we know there was a slim chance of us even being here.
"But we made it, and we want to go out and make each and every day count."