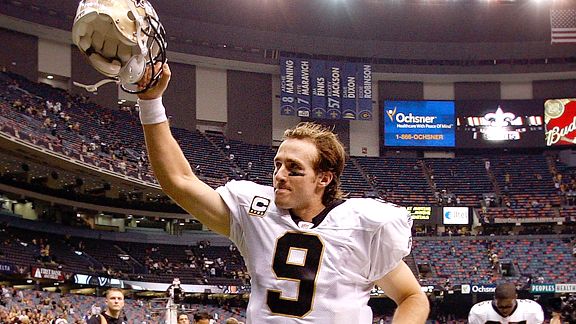 Chris Graythen/Getty Images
"As my first decree, Reggie Bush shall play the Royal Court Jester."
Turns out the Saints' three-point win over the Falcons wasn't their highlight of Week 14. The Krewe of Bacchus, Mardi Gras Parade organizers extraordinaire, has bestowed the crown of Bacchus XLII on Saints' starting QB, Drew Brees. He will assume his duties for the 2010 Carnival parade, making him the second athlete to hold the title if you count Bacchus XL (2008) Hulk Hogan. If not, woohoo, firsties for Drew!
Brees joins a distinguished history of celebrity parade kings including two Batmen (Val Kilmer, Michael Keaton), two hobbits (Sean Astin, Elijah Wood), William "The Shat" Shatner and Dom DeLuise (although they might've confused him for Cajun chef Paul Prudhomme). Also, Steve Guttenberg.
The 2010 theme hasn't been announced yet, although from past history it doesn't necessarily have to be related to that year's celebrity. Under Nicolas Cage aka Bacchus XXXIV, the actual theme was "Bacchus Journeys Through Africa" (If you don't believe us, check out the official lithograph). As a change of pace, may we suggest "Enchantment Under the Brees"?
We're also wondering if Drew is going to have creative control over his royal Glamour shot. Will we see another fashion hallmark like Cage's Bono-meets-The Crow number, or an expression as glorious as Jean Claude Van-Damme's open-mouthed cheese-wich?