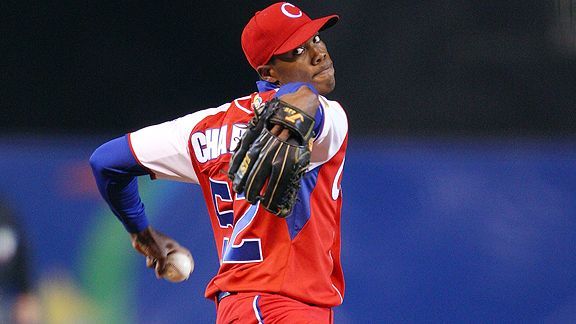 Paul Spinelli/WBCI/MLB Photos/Getty Images
Sources have told ESPN The Magazine's Jorge Arangure Jr. that the Red Sox have offered Cuban left-handed pitching prospect Aroldis Chapman a deal worth $15.5 million.
On Tuesday, the Cuban defector is scheduled to throw for teams during a workout in Houston. The Red Sox are one of the teams scheduled to be in attendance, according to ESPNBoston.com.
Chapman had a personal workout with the Boston Red Sox at Fenway Park earlier this fall and reportedly came away impressed with what he saw. Chapman pitched for Cuba in the World Baseball Classic, where his fastball was clocked at 102 MPH.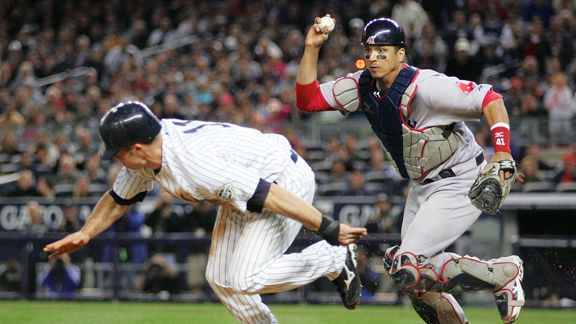 Jared Wickerham/Getty Images
The 2010 Major League Baseball season begins with baseball's biggest rivalry. New York Yankees face the Boston Red Sox at Fenway Park on Sunday, April 4, at 8 p.m. ET on ESPN2. Dating back to 1904, this is the 30th time the two teams will meet on opening day with the Yankees leading 18-10-1. The game will also be the start of ESPN's 21st season broadcasting Major League Baseball, and will be available via ESPN Radio, ESPN360.com and ESPN Mobile TV.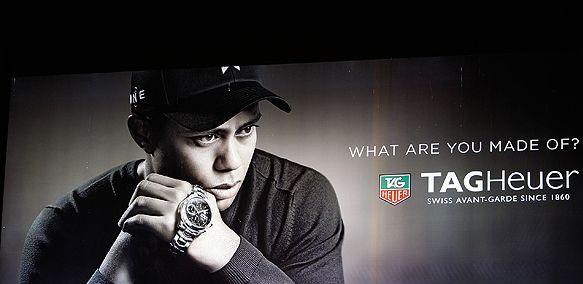 David McNew/Getty Images
A day after prominent endorsers ended relationships with Tiger Woods, 2 companies gave Woods the vote of approval on Monday. His biggest sponsor, Nike, publicly supported Woods. Nike Chairman Phil Knight said the scandal surrounding Woods is "part of the game" and did not back away from his company's relationship with the world's #1 golfer. Knight went on to add, "when his career is over, you'll look back on these indiscretions as a minor blip, but the media is making a big deal out of it right now".
Also Monday, Swiss watch maker Tag Heuer said it will utilize the next few weeks to assess its relationship with golfer Tiger Woods. In a statement made on Monday, the luxury watchmaker says, because of Tiger's indefinite leave from golf, they are examining its long-term relationship with him.