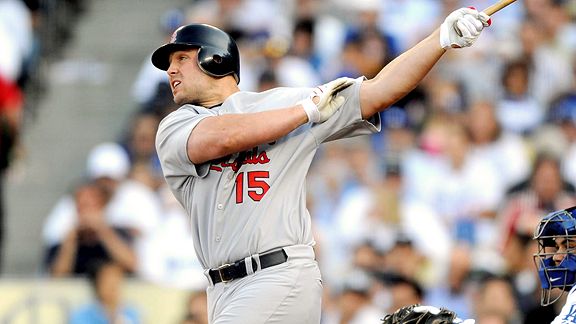 (Kirby Lee/US Presswire)
HOLLIDAY SHOPPING
The Cardinals are pushing harder toward signing Matt Holliday, and have tweaked their standing offer to the free agent. According to the St. Louis Post-Dispatch, the eight-year deal is worth around $16 million a season. That would make it the richest deal the club's ever offered, including the seven-year, $100 million extension Albert Pujols signed in February of 2003.
More of what's happening At This Hour, including the latest on the Roy Halladay deal and NFL's court battle over its anti-doping policy after the jump.
HALLADAY SHOPPING
Jayson Stark is reporting that Phillies pitching prospect Kyle Drabek definitely is in the latest version of the Halladay deal, not J.A. Happ. And indications are that the Phillies also will receive one additional prospect in the deal. It's not immediately clear whether that player would come from Toronto or Seattle.
APPEAL REJECTED
In a split decision, a federal appeals court has rejected a request by the NFL to reconsider its decision in the labor case involving Kevin and Pat Williams of the Minnesota Vikings. The pair were accused of violating the league's anti-doping policy, and league spokesman Greg Aiello says the NFL is considering an appeal to the U.S. Supreme Court.