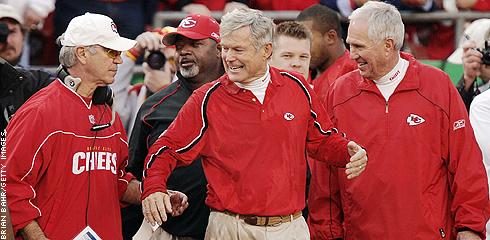 Photo: Brian Bahr/Getty Images
Was it Dick Vermeil's emotional pleas that kept fans in the seats all those years?
For the second straight week the Kansas City Chiefs are on the brink of losing one of the franchise's most prized possessions: its streak of 156 consecutive home sellouts. The Chiefs narrowly avoided snapping the streak last weekend when the NFL granted them a 24-hour extension last Friday to sell the remaining 3,500 seats for their game against the Bills.
This week's obstacle may not prove as easy as the AFC worst Cleveland Browns head to Arrowhead. The Chiefs are responsible for selling the 5,500 remaining seats by noon on Thursday or the streak will end and the game will be blacked out within a 75-mile radius of Kansas City.
Unfortunately the great Hank Stram is no longer with us to provide Chiefs fans with a proper motivational speech, but we cooked up the next best thing; a classified ad the Chiefs can put in their local papers.
KANSAS CITY CHIEFS: SEEKING FANS
Wanted: 5,500 rabid fans to cheer for pro-football team; Tomahawk Chop-ability optional. Perfect activity for those who enjoy wearing red and eating BBQ. All attendees will receive a Priest Holmes bobble head. Halftime entertainment will be provided by The Nigerian Nightmare. Clevelanders welcome, but please no Dawg Pound. If interested, please call 1-888-I-CANT-BELIEVE-THIS-IS-MY-BELOVED-FRANCHISE