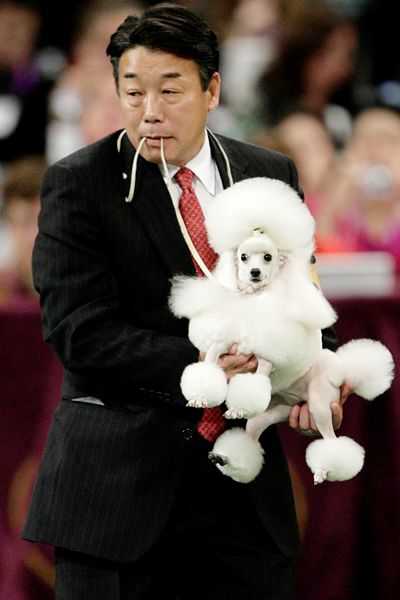 AP Photo/Seth Wenig
"This licorice tastes funny. Oh. That's because it's a dog."
For a place that only opened less than seven months ago, Cowboy Stadium has been very busy. A visit from Paul McCartney, high school football games, the Big 12 football championship and Cowboys games in 3-D, oh my.
Saturday, the stadium will host its first college basketball game, a match-up between Texas and UNC. And come February, the NBA All-Star Game will call Cowboy Stadium home. So while the Mayweather-Pacquiao fight that the stadium was lobbying for seems like a lost cause, there seems to be no telling what could happen at Cowboy Stadium in 2010.
The Winter Classic
The traditional New Year's Day outdoor NHL game is set to be played at Fenway Park in Boston, but no reason we can't have another in Texas. Well, except for the lack of snow thing. But we're guessing a stadium that's holds the Guinness Record for world's largest high-definition video display will have no problem pumping in fake snow.
Westminster Dog Show
Sure it traditionally takes place at Madison Square Garden, but we bet the dogs would love a bit of country air after all those years in the Big Apple. Of course, if the Kennel Club won't budge, Cowboy Stadium could host the Grease Dog Show instead.
Golf's U.S. Open
OK, even Cowboy Stadium can't fit a full PGA golf course on its grounds. But it can fit a US ProMiniGolf Association sanctioned course. And the 18th hole has to be sinking a put through the mouth of a giant Jerry Jones.
Boston Marathon
This venue change might meet with resistance at first, but once the runners see the flat surface – and definite lack of Heartbreak Hill – we think they'll be all for it. As for the crowd getting bored at seeing the runners go in circles all day, well, it works for NASCAR. Perhaps the Boston Athletic Association will encourage bump drafting.
Kentucky Derby
Bluegrass Schmoograss. The 2010 Derby will be all about Texas bluebonnets. Everyone will just have to make sure to swap their mint juleps for some Texas T. It'll be an easy switch, unless everyone in Texas wears a hat like this. Not exactly "race friendly" for the guy sitting behind you.