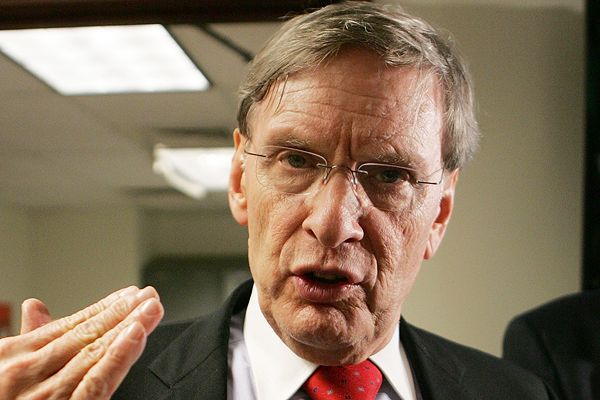 Photo: Justin Sullivan/Getty Images
Inspired by the 1957 courtroom drama 12 Angry Men (1957), MLB Commissioner Bud Selig has devised his own team of 14 jurors (or Furious Fellows) to deliberate baseball's most pressing issues. The 14-man committee will consist of four World Series Managers (Torre, Leyland, La Russa, Scioscia), four present GM's, four owner representatives, MLB consultant Frank Robinson and renowned columnist George Will; we're gonna go out on a limb and say Leyland will play the part of ornery cuss Lee J Cobb.
Selig's task force will tackle everything from the quality of umpiring to the DH rule; "There will be no sacred cows," according to the MLB commish. And while we understand the need for instant replay and the importance of reducing the length of games, we have some more others issues we'd like discussed.
Dress Code: Still the only sport where the coaches wear the uniform. We get it, Bruce Bochy has wonderful calves. Would it kill you guys to put on a suit?
Regulation Parks: One park has an ivy fence, another a 37-foot green wall and Houston built a mini-hill in centerfield, inviting ACL tears as well as the large ant population. The last time we checked the Raiders didn't have a moat protecting their endzone. Or at least, not a very effective one anyway.
2nd Base Coach: Apart from adding 30 more jobs to our current economy, we feel like 2nd base must be lonely; not even the 2B goes near it. Is there something you're not telling us 2nd base?
16+14 = Uneven Leagues: The AL West has four teams while the NL Central has six. The Central's Astros play in the same state as the West's Rangers; it's mind-boggling that Houston hasn't been moved to the AL by now.