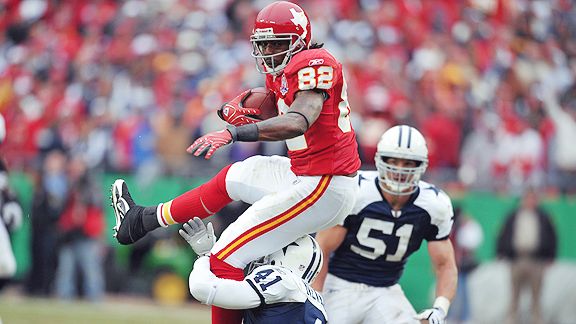 John Rieger/US Presswire
Royals pitcher Zack Greinke had all of five minutes to bask in the glow of the 2009 Cy Young award before the sunshine was covered by the black cloud that seems to loom over Kansas City sports lately as Dwayne Bowe was suspended four games for violating the NFL performance enhancing drug policy.
Don't lose hope, though, KC faithful. There are still a few bright spots left for the City of Fountains.*
Deliciously unlimited tailgating: Why rush into Arrowhead Stadium to watch the Chiefs take on the Steelers this weekend when you can enjoy some of that excellent Kansas City BBQ in the parking lot.
The T-Bones: Kansas City has a minor league baseball team called the T-Bones and they have a store called the Meat Locker. But wait, there's more! Check out the stellar logo.
The Greatest Turf on Turf: CommunityAmerica Ball Park (home of the T-Bones and the Kansas City Wizards of the MLS) was named 2009 Professional Soccer Field of the Year by the Sports Turf Manager Association.
The Lewis and Clark statue at Case Park: Soon enough exploring is going to be an extreme sport and when it does Kansas City is already going to have an awesome statue commemorating it.
Are You There, Pro Bowl Committee? It's me, Dustin: Chiefs punter Dustin Colquitt leads the NFL in downed punts (14) and in pinning opponents behind the 20-yard line with 27.
A Glimmer of Scheduling Hope: The Chiefs host the Browns in week 15. That puts a smile on any fan's face.
*According to Wikipedia, this is one of KC's "nicknames" but we're skeptical. Even if it is, they better have TONS of fountains to justify that moniker, right? Anything less than 75 cherubs spewing water would feel like a letdown. "The Paris of the Plains" is another one but that just sounds ridiculous.