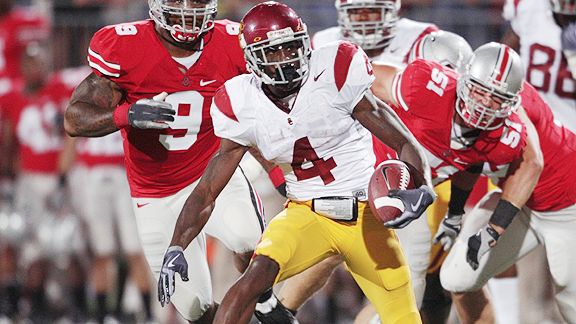 Andy Lyons/Getty Images
The SUV USC RB Joe McKnight has allegedly been seen driving may belong to his girlfriend. Scott Schenter, a Santa Monica, California businessman, told the Los Angeles Times and Los Angeles Daily News the car belongs to Johana Michelle Beltran and that he helped purchase it because her family had trouble qualifying for a loan. Beltran is McKnight's girlfriend. Schenter went on to say that he is a fan of the University of Washington and does not have an affiliation with any agent or marketing company.
USC is already under investigation by the NCAA for possible violations regarding former star-athletes O.J Mayo and Reggie Bush. If McKnight is in violation, his eligibilty for the Trojan's December 26th bowl game, the Emerald Bowl, would be in question. It is against NCAA rules for athletes to accept gifts from agents or marketing representatives, or to accept "extra benefits" based on their athletic ability.