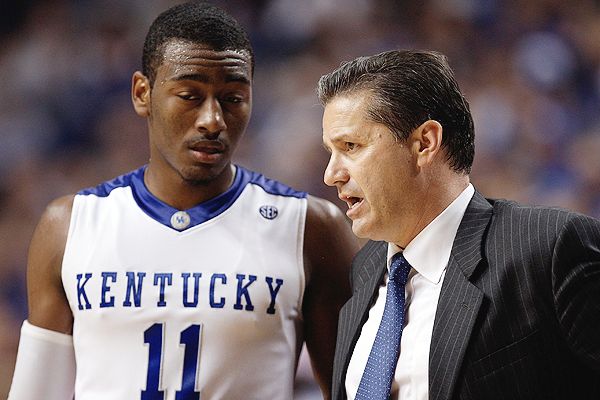 Andy Lyons/Getty Images
"OK, John. We can't sit Rick and Antoine at the same table, but if we move one that means table nine has more girls that boys.
No. 3 Kentucky plays Drexel tonight for the Wildcats' 2,000th win. No other Division I team has done it yet, so there will be all kinds of history being made when Johns Calipari and Wall take the floor.
As you can imagine, Rupp Arena is going to have quite the party atmosphere come game time – rumor is tons of alum and big wigs are heading to Lexington for the game. We only wish we could have gotten a peak at the RSVP letters from those who will be in attendance, and those who won't.
Ashley Judd – Accepts With Pleasure
"Of course! Did you know I like Kentucky basketball? I really do. You'd never know because I try to keep a low profile at the games and the cameras never cut to me. I don't want to say I'm the Wildcats' most famous fan, because that would sound vein, but I am. The team's most famous fan, I mean. Not vein. I'm not vein. I go to Harvard now."
Bobby Knight – Declines With Regret
"Hahahahhahaha! Haaaaaaaaaaaaaaaaahahahahhaha! Ha! Ha! Hahahahhahahahhahahha! Ha! Hahahahha! Heck No! Ha!"
Antoine Walker — Declines With Regret
"Sorry, John. I don't have the cash. Unless you can front me? If not, you think you could send me like a hundy anyway?"
Roy Williams – Accepts With Pleasure +1
"Thanks, John. I'll be there and I'm bringing my buddy Bill Self with me. His team is ranked No. 1, you know. What are you now, three? That's decent. Remember when my team won the NCAA tournament last year? Billy and I think a No. 1 ranking and a reigning championship are cooler than 2,000 wins, but good for you. You know UNC's nine wins behind you, right. And Kansas is only 20 back. Footsteps, Johhny. Tar-heeled footsteps."
Sam Bowie — Declines With Regret
"I can't come because I was picked before Jordan in the 1984 NBA draft. That has nothing to do with my ability to attend the game, I just wanted to remind you. Good luck!"
Billy Gillispie – Declines With Regret
"You know, I'd love to be there. It's just, um, I told my grandmother I'd take her to see "It's Complicated." She just loves that Meryl Streep. I mean, who doesn't? Anyway good luck and all. Not like you'll need it with that Wall kid. Seems like anyone could win with him on the floor. If I had him, I could've gotten No. 2,000 myself. Oooops, did I write that out loud? Tell Rick and Tubby to text me pics!"
Drexel Coach James Flint – Accepts With Pleasure
"I guess I have to go, right? Seeing as I'm the coach of the team you're playing. Waaay to go Kentucky, beating up on a little team from – you know what? You know how great we'll look if we beat you? GG, I'm holding extra practice."
Raja Rondo – Declines With Regret
"Race me."
Jim Leyritz — Accepts With Pleasure
"OK, John I'll come. If you promise to listen to my show, MLB Radio Daily on MLB Radio. I know a little something about records myself, did you know I hit the last home run of the 1990s? I did. Oh, can I get a ride?"