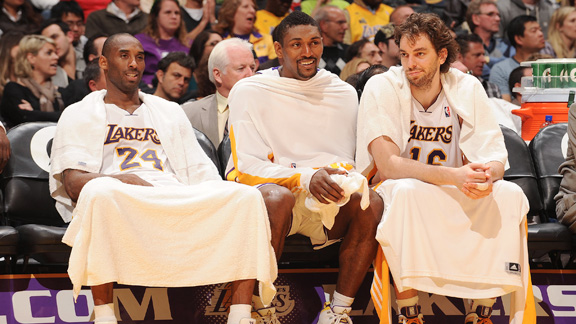 Photo: Andrew D. Bernstein/NBAE/Getty Images
"You'd think for the holidays they'd splurge a bit and turn on the heat."
Merry Christmas and Happy Holidays from ESPN. Along with ABC, we've put together a quintuplet slate of mega-NBA matchups as our gift to you. Take a break from setting your family's eggnog record, cozy up on the couch next to your loved ones and tune in for some NBA fun.
Miami Heat vs. New York Knicks 12 p.m. ET on ESPN
Don't let the standings fool you: the Heat and Knicks may not be in the same division any longer, but their rivalry lives on. Neither team can erase the memory of one 5'9" Jeff Van Gundy clinging to Zo's leg back in the 1998 playoffs. Knicks forward Al Harrington has gone as far as taking boxing lessons in preparation for today's game, but his opponent has yet to be named. Dwayne Wade, GQ Magazine's 2006 best-dressed NBA player is taking the "lover not a fighter approach" and will be looking to punish New York with his style, burning up the runway after he's finished with the Knicks.
Boston Celtics vs. Orlando Magic 2:30 p.m. ET on ABC
The NBA's Atlantic and Southeast division leaders collide in a rematch of last year's Eastern Conference Semifinals. The Magic won last year's playoff series in seven games ending the Celtics bid for a repeat. Eliminating the Celtics in front of their home crowd was impressive, but Boston fans feel the need to put an asterisk next to that win due to the absence of Kevin Garnett (injury). Dwight Howard will provide a low-post threat for the Magic as he lead the NBA in dunks a season ago with 202, but Superman better D-up come tip-off if he doesn't want to get served by KG. Garnett has been practicing with soccer star David Beckham and it's only a matter of time until he unleashes a drop-kick 3-pointer.
Cleveland Cavaliers vs. L.A. Lakers 5 p.m. ET on ABC
The stars will be out in La-La Land when the Cavs come to town to face the Lakers. This match-up of East and West powers will feature three NBA MVPS (James, Bryant, O'Neal) at least one Oscar winner in Jack Nicholson and a 6'8" Zen-Master. Out in L.A. it's all about finding the next big star and giving them a cool nickname: Black Mamba, The Big Aristotle, The Akron Hammer to name a few. Here's a few more players we'd like to see known by an alternative moniker.
- Ron Artest – The Confessor
- Adam Morrison – Tears in Heaven
- Jordan Farmar – Gourd!
L.A. Clippers vs. Phoenix Suns 8 p.m. ET on ESPN
The Clippers are still trying to find their stride and get back to .500 while the Phoenix Suns are looking to reassert themselves in the Western Conference hierarchy. It seemed almost a given that the Lakers would run away with the Pacific division at season's start, but the Suns have surprised the NBA with the 4th best record in the West. We think the Suns success might have something to do with the international flavor of their roster. They've got talent from all over the world: Leandro Barbosa – Brazil, Gordan Dragic – Slovenia, Steve Nash – Canada, Assistant Coach Igor Kokoskov – Serbia. The Clippers need to expand their horizons and broaden their diets. It's obvious the first key to playing well is eating well. Look no further than the Lakers who have: Pau Gasol – Spain, Sasha Vujacic – Slovenia and D.J. Mbenga – Zaire. The secret to Kobe's jumper is Pau's paella!
Denver Nuggets vs. Portland Trail Blazers 10:30 p.m. ET on ESPN
The Nuggets will head to Portland in the nightcap of the quintuplet header as NBA scoring leader Carmelo Anthony squares off against Brandon Roy. Both teams are stacked with talent, but what really separates these two teams from the rest of the Northwest division is team apparel. Rather than attempt to pick a winner, check out some of our favorite memorabilia from these two teams:
Nuggets Hat - Has there ever been a better vintage logo in all of sports?
Bill Walton Jersey - Bring these jersey's back already!
Nuggets Blanky - Woman (or couch) not included
Blazers Slippers - Cozy up in these bad boys