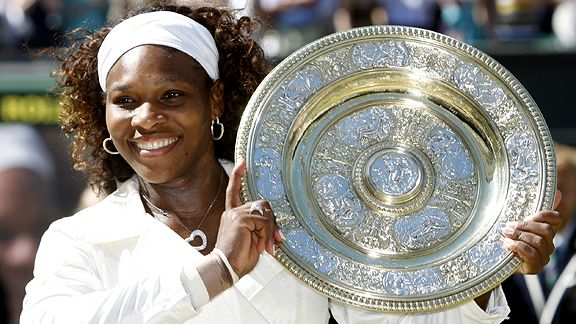 AP Photo/Kirsty Wigglesworth
Both Serena Williams and Jimmie Johnson were named AP Athlete of the Year, but only Serena got to walk away from the party with the appetizers tray.
Jimmie Johnson and Serena Williams were named Associated Press Male and Female Athletes of the Year, respectively, this week. Johnson got the nod after becoming the first driver to win four straight NASCAR championships, Serena after winning Wimbledon, the Australian Open and tour championship.
Obviously, they both have plenty of reasons to smile. But see if you know which of these two can take credit for the following:
Who became the first in his or her sport to win AP Athlete of the Year honors?
Jimmie
Even No. 3 himself (in loving memory) never got that recognition.
Who is a part owner of the Miami Dolphins?
Serena
Along with her sister Venus, Serena is a minority owner of the franchise. Other minority owners include Jimmy Buffett, Gloria Estefan, Marc Anthony and Jennifer Lopez. It's safe to say those board meetings are significantly more interesting than most around the league.
Who called NFL and MLB players out of shape, bragging that his or her 5-mile time could top theirs?
Jimmie
In the AP story announcing his award, Johnson said, "I've looked at other sports, particularly baseball, and I've seen plenty of out-of-shape, fat players. So to anyone who wants to go head-to-head with me in athletic ability, let's go. I don't know how exactly you measure athletic ability, but I know my 5-mile run time will destroy most NFL players."
Who beat out a horse for AP Athlete of the Year honors?
Serena
Serena was the runaway winner on the woman's side, but second place was Zenyatta, who became the first female horse to win the Breeders' Cup Classic.
Who got into an altercation that put him or her on probation this year?
Serena
Her tirade at the semifinals of the U.S. Open after a foot-fault call may have gotten her a record fine and a two-year probation, but it certainly didn't hurt her in the voting.
Who has had a reality show about him or her?
Serena and Jimmie
Jimmie is set to appear on HBO Sports' "24/7" show, a four-episode stint that will follow him preparing for the 2010 Daytona 500. And Serena did a reality show, "Venus & Serena: For Real" for ABC Family in 2005.
Who hosted a weekly radio show on XM titled "Not What You Expected?"
Jimmie
Guests on Johnson's show included his high school friend Marcus Giles, his crew chief Chad Knaus and his buddy Nick Lachey.
Who won $6 million in prize money this year?
Serena
The younger Williams became the first woman to earn more than $6 million in a single year. Johnson, meanwhile, earned more than $15 million so no one really loses on this question.
Who hosted a party in South Beach after his or her final event of the season?
Jimmie
Apparently the party was "raucous," says the AP.
Who was a guest star on The Simpsons?
Serena
She starred as herself in an episode titled "Tennis the Menace" along with her sister, Venus, Andre Agassi and Pete Sampras.