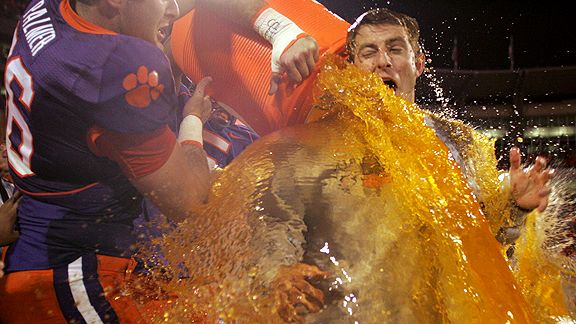 Photo: Brian Schneider/US Presswire
"I love the taste of Mango Electrico Gatorade!"
Sports have come a long way since the dawn of man. Louisville sluggers replaced bones as bats, eye-black took over for war paint and goalie masks have substituted for cheekbones in hockey. But for every guy who wows the crowd by showing up to the Colosseum sporting a brand new mace, there's a pitcher who gets bashed for sporting a flowbee in the locker room. With the decade coming to a close we take a look at the some of the wildest sports innovations of the last 10 years.
XFL Opening Scramble – Two players lined up side-by-side on the 30-yard line, with the ball being placed at the 50. At the whistle, the two players would run toward the ball and attempt to gain possession; whichever player gained possession first was allowed to choose possession. Orlando Rage FS Hassan Shamsid-Deen partook in the opening weekend scramble where he separated his shoulder and ended his XFL career. It was also an omen for things to come for ye olde Xtreme Football League. Had it lasted for more than one season Vince McMahon would have been forced to call on the likes of Rey Mysterio and Kane as players.
1st & Ten and FoxTrax - The idea of a yellow TV first down line to assist viewers watching from home was first conceived by ESPN programmer Gary Morgenstern. In 1998, Sportvision brought the idea to life and now we can't live without it. It's even further blurred the lines between real sports and video games, and it's prompted kids all over the country to ask Dad, "How come our backyard doesn't have laser beams?" Also, without 1st & Ten paving the way, the NHL would have never developed FoxTrax. It was called many things (glow puck, fire puck, smart puck, laser puck) except "popular." The NHL's infrared answer to the NFL's computer generated first down line was used from 1996-1998, but went extinct when ABC obtained the NHL broadcast rights. Ultimately, the Powers That Be determined that infrared emitters should be reserved for one sport: hunting humans like they do in Predator (1987).
Intricate TD Celebrations - Granted, LeRoy Butler was ahead of the curve back in '93 when he invented the Lambeau Leap, but T.O. changed the course of TD celebrations when he busted out a sharpie and signed a ball against the Seahawks in 2002. Owens has propelled other wide receivers to utilize cell phones and pylons as part of their celebrations. Without T.O. there would be no Ochocinco and wide receivers everywhere would have a little bit more scratch in their pocket.
Spalding Redefines the Basketball Twice - First, Spalding banked on the idea that we were too lazy to spend 45 seconds pumping a ball with a needle and devised a built-in pump for their newest basketball. The idea never took off and part of that could be attributed to the pump poking it's head out as you played. For those of you who bought it, consider yourselves served. Then in 2006, Spalding created a new official game ball for the NBA with interlocking segments made of synthetic material instead of the normal leather. The new Spalding experiment lasted about two weeks in NBA as players complained about its slickness and tendency to create blisters on their hands. Turns out the wheel isn't the only thing that doesn't need reinventing.
Nike MaxSight - Nike's lenses claim to be "one giant visual sweet spot" and the Orioles Brian Roberts test drove them to the tune of a .444 average in April 2005. Roberts was later accused of wearing performance enhancing lenses and the rumors of visual steroid use surrounded him.