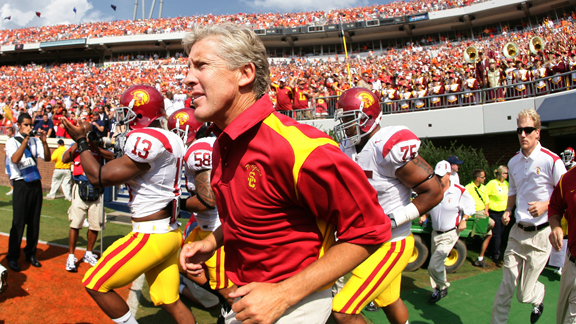 Photo: Getty Images
"I love the smell of Astroturf in the morning."
The drive toward college football post-New Year's bowl fiesta begins in earnest today with a triple-header of games on ESPN starting at 1 p.m. ET.
Little Ceasars Pizza Bowl: Marshall vs. Ohio 1 p.m. ET
The Ohio Bobcats (9-4) go for their first 10-win season since 1968 when they face the Marshall Thundering Herd (6-6) this afternoon. The Herd are playing in their first bowl game since a 2004 loss to Cincinnati; coincidentally another Bobcats team from Ohio. If that doesn't sufficiently scare Marshall into game shape, this little fact should. The Ohio U campus, which was established in 1804, is widely known as the most haunted college campus in the United States. The ghostly town of Athens, Ohio is so frightening that Fox taped an episode of Scariest Places on Earth from the university. If you're a Herd fan, now would be a good time to call Peter Venkman.
Meineke Car Care Bowl: Pittsburgh vs. North Carolina 4:30 p.m. ET
The Pittsburgh Panthers were one stop away from beating the Bearcats and taking Cincinnati's spot in the BCS as the Big East representative. The Panthers consolation prize is a trip to Charlotte, NC to face the Tar Heels in front of their home crowd. If Dave Wannstedt and crew can beat UNC and their top-10 ranked defense, it would mark the first time in 28 years that Pittsburgh reaches the 10-win plateau. To beat the Heels, Pittsburgh will likely lean on Big East offensive player of the year Dion Lewis. Lewis carried the ball a school-record 47 times versus Cincinnati prompting Coach Wannstedt to confess his feelings for Lewis saying, "Dion Lewis is the best. I love him and he's a great player." We hope Lewis likes facial hair because it would be a shame to see that mustache go.
Emerald Bowl: Boston College vs. Southern California 8 p.m. ET
We never thought USC and Emerald Bowl would be used in the same sentence, but the Pac-10 powerhouse lost three of it's last five games and finished sixth in the Pac-10 final standings. Like USC, B.C. also finished the year 8-4 and head into the Emerald Bowl winning eight of their last nine bowl games. In addition to their identical record, both football programs share Notre Dame as their #1 rival. USC and B.C. each play the Irish every season and while the USC game is more publicized, it's B.C. versus Notre Dame that is known as The Holy War. When USC and B.C. meet tonight, each school will feature freshman quarterbacks, but one is 19 while the other is 25. Most fans know Matt Barkley was the first true freshman to start opening day as the Trojans QB, but very few know B.C.'s QB Dave Shinskie played six years of minor league baseball before joining the Golden Eagles. If the game is close in the fourth quarter, you'd have to give the edge to B.C. and their vintage QB.