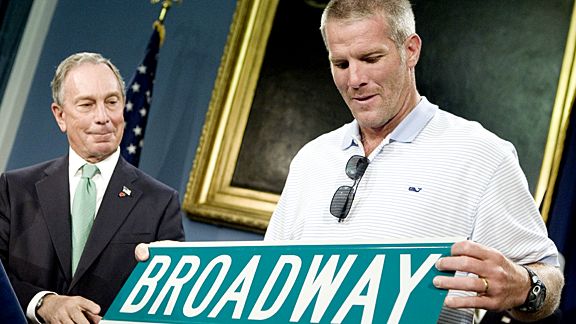 AP Photo/Richard Drew
We know Favre got this sign last year, but perhaps Mayor Bloomberg's got a generous return policy.
Malls are clogged with shoppers looking to send their holiday swag back for cash and credit. We'd bet there are plenty of athletes who'd like to re-gift some things they won't want or need in 2010. A few "presents" to send back:
Lebron and Kobe's NBA Player of the Month awards
How many of these paperweights do the superstars need to keep on display? If you were Kobe, what would go in your trophy case besides the rings, MVP and Olympic gold medal?
Chad Ochocinqo's chin strap (black)
The strap was a neutral color, yet the league deemed it offensive enough to dock the wide receiver another $10,000. If it's worth that much, why not try to trade it for a gold-encrusted version?
Kurt Warner's interception to James Harrison in Super Bowl XLIII
We hope Harrison got Warner a leopard-print Snuggie in exchange.
New Yankee Stadium
From cracked walkways to the wind tunnel effect, we wouldn't be surprised if the Steinbrenners swapped it out for a replacement while no one's looking.
Brad Childress' audible list
Thanks Coach, Brett's brought his own cheat sheet. It's cool.
Colt McCoy's last-second chuck against Nebraska
We hear his Heisman chances were stapled directly to the ball.
Darko Milicic's draft position
Now that's he's back to the friendlier shores of Europe, perhaps the rest of basketball can pretend Carmelo was the number two pick all along and is merely living up to expectations.