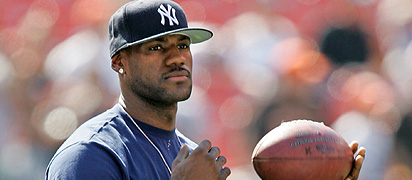 Photo: AP Photo/Mark Duncan
LeBron: "I helped the Yankees win World Series. Well, I could have."
Last week, LeBron pledged not to talk about his pending free agency — a very cool move considering it's been pretty thoroughly covered already.
The thing is, now that LeBron's not talking about that, he's talking about everything else. First he announced his campaign to have Jordan's number retired around the league. Now he's claiming he could help the Cleveland Browns, if he tried.
Maybe UPS knew something we didn't when they ran this commercial back in January. Maybe LeBron just wants to give Browns fan some hope. Or maybe Shaq's penchant for pontification is starting to rub off on The Championshipless One. Regardless, we're curious about what King James will say next.
Would he have punted on 4 and 2?
Can he replace Mangino, and fix the BCS playoffs while he's at it?
If next year's MLB all-star game is headed for extra innings, maybe LeBron should just pick the winner.
Maybe he can host the 2018 World Cup. In his backyard.
Maybe he should declare himself the new king of pop and play the Super Bowl halftime show?
Also, he's the new Batman.
It'd be nice if James could discover the secret to reducing global warming, but only share it if he gets 1 million twitter followers.