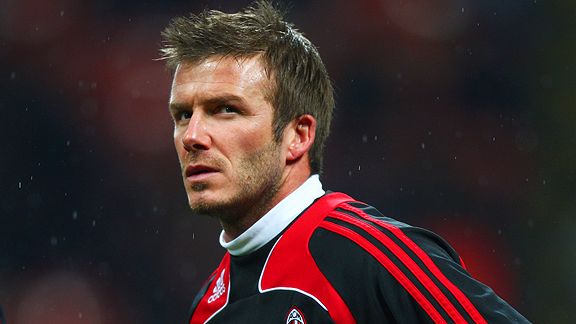 (Michael Steele/Getty Images)
CAPELLO OPENS DOOR FOR BECKHAM
David Beckham is set to arrive in Italy today for his second spell on loan with AC Milan. And if he plays well, England manager Fabio Capello expects to have the midfielder in his squad for the World Cup in June. Capello tells the Gazzetta dello Sport, "I don't look at ages. I look at skill and Beckham has a lot. He's serious, a real professional and he's really dedicated to making the World Cup squad." England opens the World Cup against the United States on June 12th.
More of what's happening At This Hour, including an injury scare for one of America's Olympic favorites and the possibility of Ron Artest's rapid return to the Lakers, after the jump.
VONN INJURED IN CRASH
While the World Cup in South Africa is six months away, the Winter Olympics in Vancouver are just six weeks away. Not a good time for Lindsey Vonn to be recovering from a left arm injury she suffered in a giant slalom crash today in Austria. Vonn initially feared her arm was broken and was taken to the hospital. A doctor says she only sustained some swelling, and might be able to race in the slalom tomorrow. Vonn is looking to medal in all five Alpine Olympic events in February.
ARTEST IMPROVING, BUT NOT ALL BETTER
Ron Artest is still recovering from the concussion he suffered on Christmas night. He visited a neurologist yesterday, and while he was told his condition has improved, he was not cleared to play. He has another evaluation scheduled for today, and if he's cleared this time, he will fly to Phoenix and play tonight against the Suns.