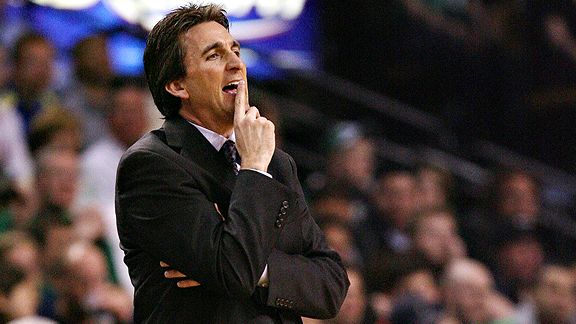 Photo: Elsa/Getty Images
"I wasted so many good suits on this job."
It's not-so-happy holidays for Vinny Del Negro, coach of the lackluster 11-17 Chicago Bulls. According to ESPN's Chris Broussard, the decision has already been made to fire Del Negro, although Vinny D. disputes those rumors and management isn't saying anything one way or the other. A season ago Del Negro and the Bulls took the Celtics to seven games in round one of the NBA playoffs, but evidently a thrilling playoff series, screaming at Q-Rich on a 3-point attempt and a wonderful hairdo does not guarantee tenure in Chicago. Del Negro joins Coach Jim Zorn in the lame duck pond, but which of these two coaches is the lamer duck?
The Straw that Broke the Coach's Back: Back in week 13 Shaun Suisham missed a 23-yard FG for the Skins with 1:56 remaining. The field goal would have delivered the Saints their first loss of the year. Drew Brees would drive 80 yards in less than two minutes to tie the game and eventually beat the Skins in OT. Zorn had already lost his playcalling duties, but that day his pride left too. How about Vinny's legendary collapse versus the Kings on December 21st? The Bulls led 79-44 before squandering away their lead and losing 102-98. This 35-point comeback marked the largest since 1996 in the NBA.
Lamer – Vinny
When They Were Pros: Del Negro may not have impacted the NBA playing for five teams with a career average of 9.1 ppg, but he was a god overseas. Vinny D. took a 2-year break ('90-'92) from the NBA to play for Benetton Treviso (Italy) where he scored over 25 ppg, slam dunked, and won an Italian championship. Jimmy Z. on the other hand spent most of his pro days invisible. Zorn spent seven seasons as the Seahawks QB and missed the playoffs every year before his demotion to backup duties in '83. Zorn would make a living as a journeyman backup playing second fiddle for the Seahawks, Packers, Winnipeg Blue Bombers (CFL) and the Bucs.
Lamer – Jimmy
He's So Suave: Zorn was an underdog heading into this category as NFL coaches often sport parkas on the sidelines. He had his chance to win us over when we spotted him golfing, but Zorn choked wearing an untucked shirt and white socks with black shoes. Really Jimmy? Wonderful hair, fine suits and the moxie to sport short-shorts; Vinny D., we love your versatility.
Lamer – Jimmy (although we value buzz cuts)
Talent Show: The Skins inked Albert Haynesworth to a $100 million-dollar deal this offseason and their defense is currently ranked 11th. The offense on the other hand is ranked 23rd, but Zorn gets some leeway here with Clinton Portis sidelined by a concussion. Del Negro has nowhere to hide. With the likes of Luol Deng, former #1 overall pick Derrick Rose and the NBA's leading hair-man Joakim Noah, there's no excuse for a sub .500 record. It's too bad that Del Negro couldn't succeed with a team that can sing 80's songs as well as this.
Lamer - Vinny
It's tied 2-2 after four rounds. Zorn has one week left in the regular season and Del Negro is on borrowed time. Whoever keeps their job longer will win the title.