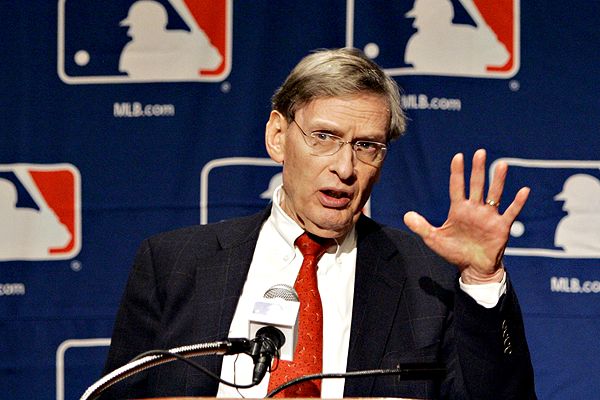 AP Photo/Matt York
"Oh no, please don't put me on your list..."
There have been a number of sports moments over the past 10 years that have left us staring at our tube, projection, plasma, and LCD screens in total disbelief. Most of these instances were the result of decisions made by players on the field of play, but the ones that have really left a mark were initiated by misdirected decision makers.
Will any of these events top the previous decade's standout performance by NFL referee Phil Luckett - who declared that Jerome Bettis called "heads," not "tails"- on Thanksgiving Day 1998? You decide.
February 15, 2001 - Cleveland Cavaliers vs. Dallas Mavericks: In what would later become known as the "Chalupa Incident," the Mavericks ran up the score in Dallas to cross the 100-point barrier and earn their fans free chalupas as part of a fast-food promotion. The Cavs, apparently no lovers of cheap Mexican food, took offense and began a scuffle on the court. The chalupa promotions would later come to an end, as would then Cavs coach Randy Wittman's beautiful quotes, such as, "When it comes down to 10 seconds and you call a timeout, draw up a play to get a chalupa. I would never do that."
2002 Nathan's International July 4th Hot Dog Eating Contest: After scarfing down more than 50 hot dogs in 12 minutes, then 24-year-old Takeru Kobayashi suffered a "roman-method incident" (i.e. regurgitation) in the closing seconds. Fortunately for Kobayashi, there was no instant replay and he was not disqualified. Unfortunately for Kobayashi, the pieces of liquid bun spouted out of his nose.
2002 MLB All-Star Game: With the game tied 7-7 in the bottom of the 11th inning, the rosters depleted, and the pitchers' arms wearing down, Commissioner Bud Selig declared the game a tie (!) from his seat in the stands. Selig tried to remedy the situation in subsequent years by making the outcome of the game determine home-field advantage in the World Series. Of course, suspending the game and scheduling a make-up date would have done more to solve the underlying problem.
2006 NFL Pro Bowls Skills Challenge: Buffalo Bills punter Brian Moorman, weighing in at a hefty 175 pounds, wisely forfeited the blocking sled division of the obstacle course competition in favor of a 5-second penalty. Playing the perfect strategy, Moorman completed the event with the best time but was immediately "disqualified" without explanation before Colts linebacker Cato June was awarded the title. At least Moorman got to spend a winter weekend in idyllic Hawaii rather than snowy Buffalo.
2008 Summer Olympics Women's Basketball: American Becky Hammon, a former WNBA MVP runner-up, became a citizen of Russia to play for their country in the Beijing Olympics, despite having no Russian ancestry. Hammon shot 1-for-6 from the field in a 67-52 loss to the eventual gold medal-winning United States team. The Russians recovered to take bronze behind silver medal-winning Australia. Look for the powers that be to allow Hammon to become a citizen of the Land Down Under in time for the 2012 London games.