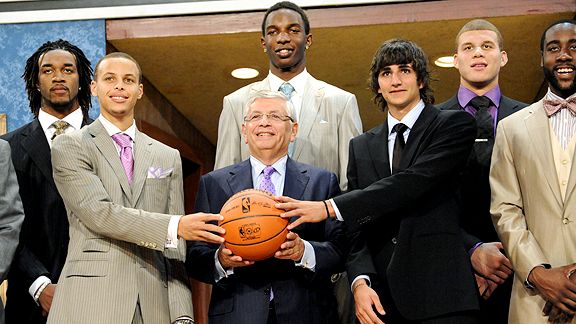 Photo: Jesse D. Garrabrant/NBAE/Getty Images
Will this be the first and last time Ricky Rubio touches an NBA ball?
No matter how good or bad your favorite team is, everyone enjoys draft day. It's the one day of the year all fans unite and place their hopes and dreams in their team's ability to find the next bright young star. But more times than not drafts are memorable for what goes on outside the team's selection. Nobody recalls the Jets selecting Kyle Brady in '95, but everyone remembers the historic chant, "We Want Sapp, We Want Sapp." You may have forgotten that Cedric Benson was drafted fourth by the Bears, but you probably didn't forget his ensuing crying escapade. Here's a look at our favorite draft moments of the last ten years.
Minnesota Draft Phobia – With the 7th overall selection in the 2003 NFL Draft, the Vikings selected … nobody. The 15-minute allotted time ran out before the Vikes could submit a pick. The Jags and Panthers both hopped ahead of Minnesota and selected players while the Vikings daydreamed of ice fishing. If you're looking for the T-Wolves first round selections from '01, '02, '04 and '05, you won't find them. After David Stern caught the Wolves involved in a shady free agent deal with Joe Smith, he relieved them of several first round draft picks. Fast forward to 2009 and one has to wonder, "Did the Wolves do it again with the Ricky Rubio selection?"
Darko Sandwich – After the Cavs selected Lebron with the top pick in the 2003 NBA Draft, the Pistons opted for Darko Milicic ahead of superstars Carmelo Anthony, Chris Bosh and Dwayne Wade. In an effort to make some New York friends, Darko gave a gladiator-esque thumbs-up in front of the Garden crowd. Sadly for Darko his career was a thumbs-down as he just announced this will be his last NBA season.
Alexander the Great – With the fourth overall selection in the 2006 NHL Draft, the Caps strayed from the norm sending Alexander Ovechkin to the podium to announce their draft pick. The fans in attendance went berserk as Ovie announced the selection of Nicklas Backstrom. Player representatives on draft day has not gone mainstream yet, but we're drooling over the idea of a draft day rap-battle between Kobe and Artest as the Lakers debate their 2010 selection.
Draft Fashion – Nobody ever remembers who was drafted fifth in a given draft, but the perfect suit can etch you in draft folklore for eternity. Beating Karl Malone's selection suit is an impossibility, but we have a few nominees for our most charismatic of the decade:
Eric Gordon – Basketball player / Waiter
Drew Gooden – Showed up ready for his Matrix audition
Joakim Noah – Available, should Krusty the Clown ever need a new sidekick. Sideshow Joakim?
Megatron at the Combine – Okay, this isn't technically a "draft day" moment but we're including it because it was awesome and we're sure that it ended up affecting the actual draft day anyway. After telling scouts he'd wait until March 15th to show off his speed at a Georgia Tech workout, Calvin Johnson changed his mind at the combine and ran a 4.35 40-yard dash in borrowed shoes. The performance was so spectacular it garnered comparisons to the great Willie Mays Hayes wake-up run from 1989.