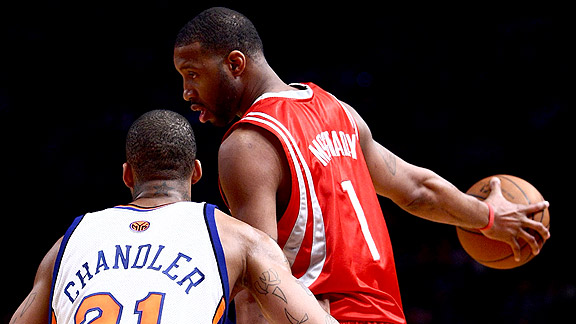 (Chris McGrath/Getty Images)
KNICKS INTERESTED IN MCGRADY
...and his $23 million expiring contract, now that the Rockets are looking to make a trade. Coach Mike D'Antoni tells the New York Times that he's "intrigued with somebody the stature of Tracy McGrady", who could fit the team's plans both to push for a playoff spot this season, while maintaining cap room to pursue a free agent superstar in the off-season.
More of what's happening At This Hour, including Jaromir Jagr's return to North American ice and a Bruin who is bound for the NFL draft, after the jump.
WELCOME BACK, JAGR
Jaromir Jagr has been named to the Czech Republic's 23-man roster for the Olympic Games in Vancouver in February. The 37-year-old last played in the NHL with the Rangers in 2008, and currently plays for Avangard Omsk in Russia.
PICK YOUR PRICE
After UCLA's win over Temple last night, defensive tackle Brian Price said he will enter the NFL draft. The 6'2", 300-pound junior could be a first round pick, possibly the third defensive tackle taken behind Nebraska's Ndamukong Suh and Oklahoma's Gerald McCoy.