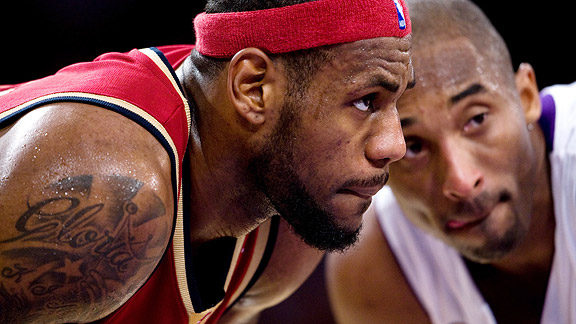 Jeff Lewis/Icon SMI
For his birthday this year, LeBron James wishes that Kobe Bryant would stop jumping into all of his profile photographs.
Following a dominant fourth quarter, the Cavs defeated the Hawks in Atlanta last night in the first game of their home and away series. The two teams play again tonight in Cleveland where the local crowd will be singing happy birthday to their main man – LeBron James turns 25 today.
It's hard to believe that LeBron, in his seventh season in the NBA, is only 25 years old. It seems like just yesterday he was rapping with Lil Wayne (that was four years ago on his 21st birthday) or getting a $50,000 Hummer H2 from his mom (that was seven years ago on his 18th birthday).
This year, LeBron will be celebrating his big day on the court. In fact, that's becoming somewhat of a birthday tradition for King James. Tonight will be the fourth time he's played on his birthday in the NBA. Although LeBron played well on each of the previous three occasions, the Cavs lost each time on the nights he turned 19, 22, and 24.
If LeBron's losing birthday streak continues tonight, he shouldn't get too upset. Instead, he should celebrate the fact that his birthday doesn't fall in June where it would coincide with the NBA Finals. Plus, if his Hummer needs a new sound system installed, he's finally old enough to rent a car.