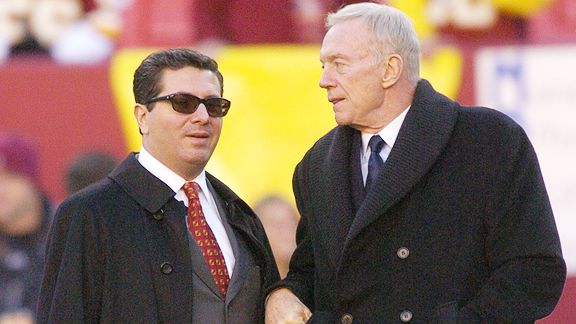 Photo: Randy Litzinger/Icon SMI
"Do you have a matching 401K in Washington?"
With a 24-0 win over the Eagles Sunday, the Cowboys secured the #3 seed in the NFC playoffs and will host a rematch versus Philly tonight. Although Dallas enters the game winners of three straight, the Cowboys have dropped six consecutive postseason games dating back to 1997. A loss to the Eagles this weekend would give Dallas the NFL record for most consecutive postseason losses (7). In an effort to buck the trend, we recommend Coach Phillips comb his hair like Jimmy Johnson and harness the powers of the mid-nineties Cowboys.
Fortunately for Dallas, Tony Romo may have turned the corner and put his late season woes behind him as he recorded a 104.4 QB rating over the months of December and January. With Carrie Underwood engaged to the NHL's Mike Fisher and Jessica Simpson watching her sister perform on Broadway every single night, Romo can finally focus on notching his first playoff win.
That being said, the Eagles are 7-0 in postseason openers under Andy Reid and 6-0 with McNabb at quarterback, so the chance of another Cowboys setback is very possible. If Dallas were to lose and set the NFL postseason loss record, there could be dreadful ramifications handed down by Jerry Jones.
- All players are forced to duke it out Thunderdome style. Two men enter, one man leaves. Good luck to whoever battles Flozell Adams. The NFL has fined him $80,000 this season.
- Jerry Jones douses the team in Philly's finest cheez-whiz.
- Tony Romo is banished to the Jersey Shore to date Snookie.
- The entire roster is forced to watch Emmit Smith's Dancing with the Stars season on the world's largest scoreboard.
- Miles Austin must deliver a heartfelt "That's my quarterback, that's my teammate" speech to the media after the game.
- Marion Barber parades around town in a pair of Winkers jeans.
Tune in for the game tonight at 8 p.m. ET on NBC. Who knows, you may even spot Jerry Jones digging for buried treasure!