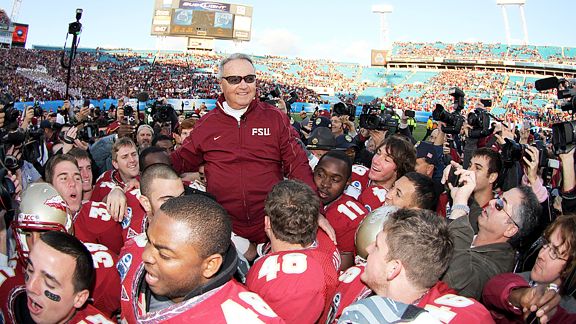 Photo: Doug Benc/Getty Images
JACKSONVILLE, FL - JANUARY 01: Bowden is carried off the field by his players after defeating West Virginia in the Gator Bowl.
The NCAA has announced that the NCAA Division I Infractions Appeals Committee has upheld the vacation of records penalty for Florida State University. That means Bobby Bowden, and the Seminoles will likely be stripped of some of their wins. Bowden ended his career with a victory in the Gator Bowl. Before the penalty, Bowden had 389 wins, second behind only Joe Paterno.
NCAA statement after the jump
From the NCAA:
In March 2009, the NCAA Division I Committee on Infractions issued an infractions report that included findings of academic fraud affecting more than 60 student-athletes across 10 sports. The case also included impermissible benefits, unethical conduct by three former academic support services staff members and a failure to monitor by the university. The involved sports were football, men's and women's basketball, men's and women's swimming, men's and women's track, baseball, softball and men's golf.
Penalties for the violations included four years of probation, scholarship reductions, vacation of records and show cause penalties for the former staff members.
In its written appeal, the university asserted that the vacation of records penalty assessed by the Committee on Infractions should be overturned. Specifically, the university asserted this penalty was "excessive" and claimed the Committee on Infractions did not appropriately weigh its cooperation during the investigation and corrective actions when determining the penalties.
The Infractions Appeals Committee, however, affirmed the penalty, stating in its report, "The cooperative efforts of the university clearly did not outweigh the aggravating factors in this case - the nature, number, scope and seriousness of the violations."
More: Bowden goes out a winner as Seminoles dispatch Mountaineers