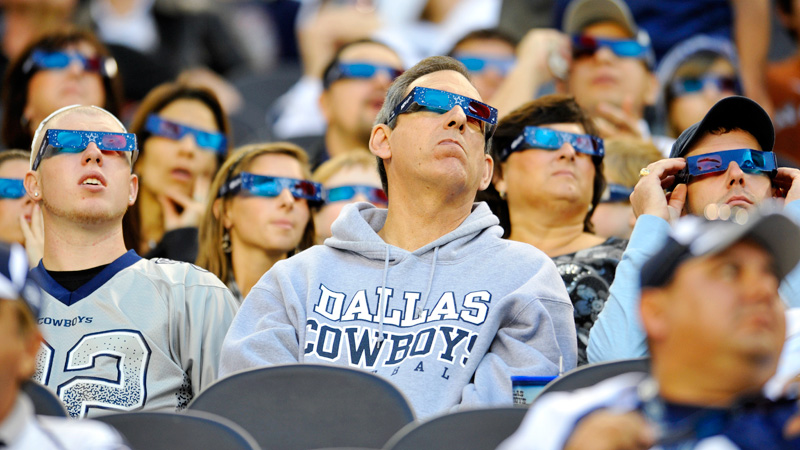 AP Photo/Michael Thomas
While 3D glasses are necessary when watching 3D television, fans at the game will normally get a true 3D experience by simply using their eyeballs.
There's big news in the third dimension and we're not talking about Avatar surpassing $1 billion worldwide or a rerelease of the classic "Weird Al" Yankovic in 3-D. No, this news comes from your friends over here at ESPN, the soon to be Worldwide Leader in 3D Sports.
ESPN has announced plans to unveil a new 3D network in 2010, just in time for this summer's FIFA World Cup from South Africa. Other notable 3D events you can look forward to include the Summer X Games and the 2011 BCS National Championship Game. Even more events will soon be announced, and we're crossing our fingers that the following shows make the cut:
Around the 3D Horn: All of the guest hosts will appear to sit in a semi-circle around an actual horn, reminiscent of the conch from Lord of the Flies.
Outside the Lines 3D: The most literal television show ever, as it will actually appear to be outside the lines of your TV.
3D Cold Pizza: Because all that was missing were various toppings appearing to fly through your screen.
3DPTI: It's not a robot, it's Tony and Wilbon in your living room.
SportsCenter3D: Is that Scott Van Pelt and Steve Levy or just clever holograms delivering you the highlights? We'll never tell.