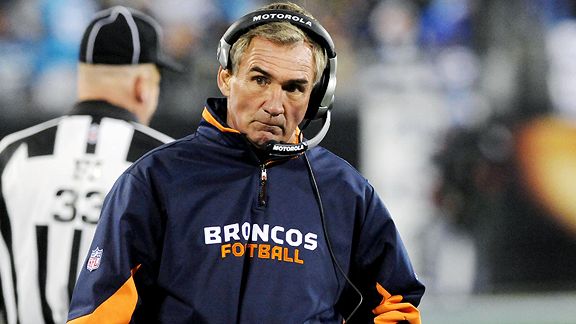 Sam Sharpe/US Presswire
You'll be fine in D.C., Mike. Wait, you don't wear straw hats, do you?
Mike Shanahan is now the coach of the Redskins. We know Redskins GM Bruce Allen likes Mikey - he had him on a plane to Virginia before Jim Zorn's Dockers even left the coach's seat. But one can never be too careful as long as owner Dan Snyder's still writing the checks. Since Snyder took over the team in 1999, the 'Skins have had six coaches (Shanahan would be No. 7). That's 1.43 per year.
Or, in other words: 1. Norv Turner (1994-2000), 2. Terry Robiskie (last three games of 2003), 3. Marty Schottenheimer (2001), 4. Steve Spurrier (2002-03), 5. Joe Gibbs (2004-07) and 6. Jim Zorn (2008-09). Phew. Deep breath.
Point is, we have a big enough sample size to gauge what Dan does and doesn't like in a coach by this point. So here's some advice to Mike based on what we've gleaned over the past 10 years...
Likes …
Visors: See: Spurrier, Steve and headgear. Steve, who resigned in 2003 after two seasons, was one of only two coaches not fired by Snyder. Was it the visor that kept him safe? Coulda been.
Hobbies: Joe Gibbs wasn't all Redskins, Redskins, Redskins. He had other things in his life. Like his multi-million-dollar NASCAR team, Joe Gibbs Racing. Gibbs lasted longer than any other coach under Snyder, and he wasn't fired, he retired. In fact, he's still technically with the organization, as a "special adviser" to Snyder. So find a hobby, Mike.
Dislikes …
Funny first names: Did you know what Norv (as in Norv Turner) stands for? Norval. NORVAL. Awesome. But not to Dan Snyder, who fired Norval (in his seventh year with the team), with three games left in the 2000 season. As long as Mike's not short for Mikalevhlogchopolong, seems like you're safe there, Shanahan.
Side Parts: Maybe if Norval had parted his hair down the middle he'd have lasted longer.
Hip, Hip Hooray: Apparently, Jim Zorn was a big fan of the "hip, hip, hooray" cheer. And apparently, Dan was not. Zorn was stripped of his play calling duties in the middle of his second season (2009) and fired at the end of it. So Mike, keep the hokey stuff at your kid's soccer game and out of the locker room.
Straw Hats: We're guessing all that visor love doesn't leave much room in Dan's heart for Marty Schottenheimer's head-topper of choice, straw hats. How else do you explain Marty getting fired after one season in 2001?