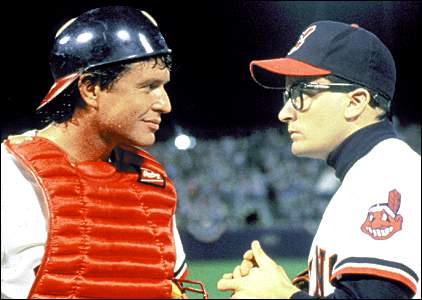 "Those glasses are funnier than a sitcom about two bachelors attempting to take care of a wise-cracking 'tween."
So, we were watching the 1989 classic, Major League, the other day and it occurred to us that no official Player of the Game has ever been named for that memorable playoff. No trophy presentation, no speech from Fictional Manager of the Year Lou Brown, just a bunch of fans screaming for their favorite tribe. And that's not good enough. As sports fans we feel kinda cheated that nobody was ever awarded an MVP for one of the greatest sports games ever played. In order to end the ever-growing debate of "who is the MVP of the final game in Major League," we rewatched the game footage, broke down each candidate, and then selected a winner.
Before diving into our analysis, please note the following:
- We have assumed the movie was cut together much like one of our shows (just the highlights) so only on-screen stats were used.
- We will look at the top contenders by examining the pitchers, Harris and Vaughn, and then the position players in the order in which they batted.
- There's also some dude named "Tomlinson" who lines out in the ninth inning but let's be honest, if we don't know your first name, you're not winning anything.
Eddie Harris: Junk-arm Harris pitched the game of his life in this one. The veteran righthander went eight-and-two-thirds innings, giving up eight hits and two runs, but left with a no-decision. A little extra Crisco or Bardol might have helped him finish this one off.
Stat Line: 8 2/3 innings, 0 on-screen K's
Rick Vaughn: Vaughn only pitched one-third of an inning but it was in a huge spot. Tied 2-2 in the top of the ninth, Yanks slugger Clue Haywood stepped to the plate with the bases loaded. Vaughn mustered up the courage to throw three consecutive fastballs (clocking in at 97-, 99-, and 101-m.p.h.), striking out one of the AL's Triple Crown winner. Vaughn was also awarded the win.
Stats Line: 1/3 inning, 1 K (possibly the only K of the night), awesome fist pump towards Haywood, winning pitcher
Willie Mays Hayes: Hayes' preseason crutch of popping up to the infield came back to haunt the Indians as he popped up to end the 4th. Hayes made up for his inning-ending pop out in a big way, though, with a brilliant play at the wall in the sixth, robbing the Yankees of a sure home run and preserving a 0-0 tie. More importantly, though, Hayes gutted out a grounder to shortstop in the bottom of the ninth. Then he steals second base two pitches later. After Jake lays down the bunt, Hayes scores all the way from second base (an unprecedented feat in the majors). It should be noted that first baseman Clue Haywood appeals to the ump after Taylor is called safe, thus giving Hayes the ability to reach home (error on Haywood?).
Stat Line: 1-2, SB, game-winning run scored, home run-robbing catch
Jake Taylor: First of all, it's almost mind-boggling that Brown would bat Taylor second, especially given his age and well-known history of knee problems. It definitely explains why Lou was managing a garage at the beginning of the movie and not another team. Nonetheless, Jake starts his MVP campaign with a beautiful snap throw to first base in the fourth inning, picking off an unknown Yankee. He also called Harris' pitching gem. From the plate, Taylor grounds out in the seventh, but has the legendary at-bat in the ninth, more than making up for his previous out. With Hayes on base, Taylor calls his shot in Babe Ruth fashion. After being brushed back and missing on a 1-0 pitch, Taylor lays down his bunt and heroically legs out a single. After Taylor falls to the dirt (as if he'd been shot), Hayes rounds third and scores the game-winning run. From the Mexican league to division champion; quite a story Mr. Taylor.
Stat Line: 1-2 (RBI in question), 1 Pick-off, Memorable Bunt, Played on bum knees
Roger Dorn: Dorn's play is often overlooked. He made the inning-ending putout in the first as well as a run-saving, diving catch in the top of the fifth to keep the game notted at zero. Dorn also did it with his bat, lacing a two-out single to left in the bottom of the seventh with Cleveland down 2-0. Shades of Gary Carter's 2-out hit for the '86 Mets? We think so. Dorn would score on Cerrano's homer on the next at bat. It should be noted that Dorn comes to the mound to aid Vaughn prior to pitching to Haywood in the 9th.
Stat Line: 1-1, two-out hit, run, two put-outs, great advice
Pedro Cerrano: The Indians cleanup hitter goes down swinging in third and the fifth inning, but would redeem himself in a big way in the 7th. Down 2-0, with two outs and Dorn on first base, Cerrano jacks the game-tying home run and circles the bases carrying his bat. As if wanting to sacrifice a live chicken before the game wasn't enough to win us over, Cerrano went for bonus points with his bat-toting home run trot.
Stat Line: 1-3, HR, 2 RBI's, one sacrificial bucket of KFC
MVP - Willie Mays Hayes. After much review, we decided that Hayes made the greatest contribution to the Tribe's amazing victory. We couldn't credit Taylor with an RBI on Hayes' game-winning run because, if Haywood hadn't questioned the ump's call, Hayes would have never scored in time and the game would most likely have gone into extra innings. As it stands, though, Hayes hoists the trophy. Fictional problem resolved.