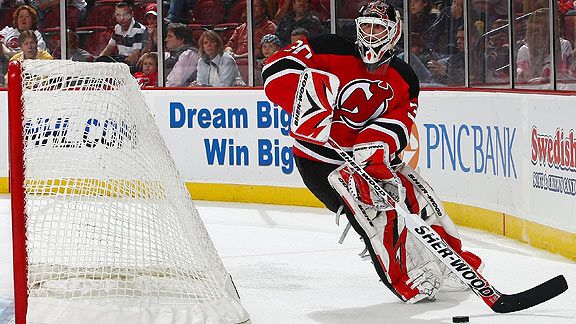 Photo: Chris McGrath/Getty Images
Brodeur has gotten so bored with shutting teams out, he's testing out the waters as a left wing.
Martin Brodeur blanked the Sabres 3-0 on Monday night giving him his 103rd career shutout and tying him with Terry Sawchuk for the most in NHL history. Considering the magnitude of the record, we thought a trophy or plaque seemed kind of anti-climatic so we thought of a few alternate ways that the Devils could celebrate Marty's achievement.
Zamboni Voyage: Similar to the Yankees parade through the Canyon of Heroes, Brodeur could drive a Zamboni down the New Jersey Turnpike. Just make sure the Zamboni gets there in one piece.
Halftime Shows for the Nets: It's the perfect way to raise support for a struggling Nets team. Trampoline dunks has been done, but never in full goalie attire.
Taxidermy Approach: Mount each team's logo in Brodeur's trophy room and brand each insignia with the amount of times he's shut them out. This idea becomes much more intriguing when you consider the number of teams that don't have animals as mascots. That's when the creativity really kicks in.
Brodeur's Donuts: Twenty-seven flavors representing the twenty-seven teams he's shut out over his career. "Can I please have one Canuck with sprinkles, two custard filled Blue Jackets and a coffee?"
New Mask: To borrow from Gerry Cheevers, who put a stitch in his mask for every time a puck struck his face, Brodeur could add a notch in his mask for each NHL team he shuts out.